Faculty Profile: Dr. Kathy Yang
October 20, 2017
Kathy Yang, PharmD, MPH, an Infectious Diseases Clinical Pharmacist in UC San Francisco's Medical Center, has collaborated with other researchers to create a device to discover the optimal antibiotic doses that fight bacterial infections common in patients with cystic fibrosis (CF).
"Cystic fibrosis is a genetic disease that causes a thick mucus buildup in various organs including the digestive tract and the lungs due to a defect in the CFTR gene," Yang said. "This mucus buildup can lead to serious lung infections, difficulty breathing, and ultimately, respiratory failure."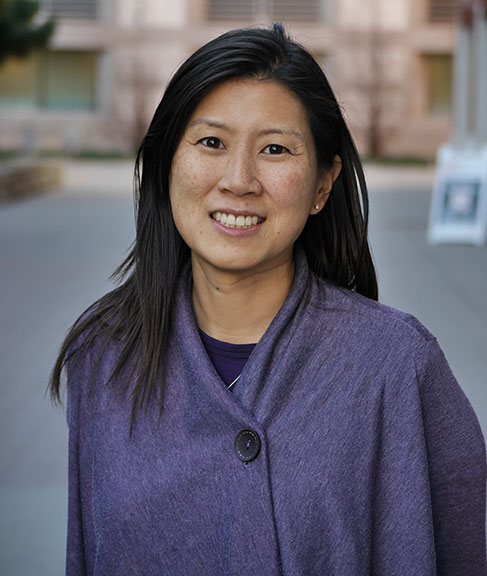 This disease affects about 30,000 Americans and more than 70,000 worldwide. In 1962, the median survival age for those diagnosed with CF was 10, but with scientific research advancements, the median survival age increased to 37, with many living past that.
"CF care has improved drastically in the past 20-30 years, because of better nutrition, better lung therapy to prevent and treat lung infections, and CTFR modulator medications that work to correct the underlying defect and thin the mucus," Yang said.
To further improve survival age for CF patients, Yang began doing research on bacterial infections by collaborating with: Davide Verotta, PhD, Professor of Clinical Pharmacy, UCSF; Alfred M. Spormann, Dr. rer. nat., Professor of Environmental Microbiology, Stanford University; Søren Molin, PhD, Professor in the Department of Systems Biology and Scientific Director at Novo Nordisk Centre for Biosustainability, and Janus Haagensen, MS, Researcher, both at Denmark Technical University (DTU).
This research began through a UCSF Resource Allocation Program (RAP) grant and later received National Institutes of Health (NIH) funding in 2012. Their research studies biofilms, which are three-dimensional structured communities of bacteria enclosed in a secreted slime that are extremely resistant to antibiotic therapy. This laboratory research is not clinical research, because it does not involve direct interaction with patients. Instead, they use bacteria obtained from cystic fibrosis patients with lung infections to help create antibiotic doses for future patient protocols.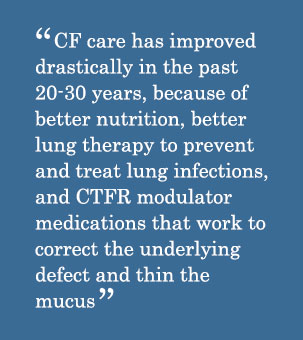 As biofilms, bacteria exhibit increased resistance to antibiotic treatment compared to planktonic or free-swimming bacteria and can be extremely difficult to treat. Moreover, communities within the biofilm exhibit differential response to antibiotic therapy.
Unfortunately, most human infections, such as otitis media, orthopedic implant infections, and lung infections in patients with CF are due to biofilms. Often times, these infections cannot be optimally treated with antibiotic therapy alone.  Moreover, the optimal dose to treat biofilm infections is unknown as antibiotic studies are typically performed on planktonic bacteria.
"Together we have created an in vitro device to study how antibiotics kill biofilms," Yang said. "This pharmacodynamic simulator allows us to treat bacterial biofilms with any antibiotic dose or antibiotic combination and to see specifically which communities within the biofilm are targeted. Hopefully, this will give us a better understanding of how to better treat biofilm infections, with improved outcomes."
The most common bacteria that is present in CF patients is Pseudomonas aeruginosa, which often establishes itself as a biofilm in the lung of CF patients.
"Pseudomonas aeruginosa is highly adaptive and is notorious for being resistant to multiple antibiotics," Yang said. "Once established in the CF lung, it is almost impossible to cure with antibiotics. Chronic lung infection with Pseudomonas aeruginosa is the leading cause of respiratory failure in patients with CF."
Yang's research has revealed that antibiotics kill some structures within the Pseudomonas aeruginosa biofilm, while others are not killed. Right now, there are very few new antibiotic therapies in the pipeline.  As such, the goal is to optimize the antibiotics that are currently available.
"The main cause of death in CF patients is usually respiratory failure resulting from lung infection and inflammation, so if we can better target the biofilms causing this, then my hope is that we can extend the life of CF patients by eradicating infection and preventing drug resistance," Yang said.
The Road to UCSF
Yang, a Bay Area native, grew up in Mountain View and attended UCLA for her undergraduate degree in microbiology and molecular genetics. Then, she received her Doctor of Pharmacy degree from UCSF in 1998.
"I started pharmacy school sort of on a fluke," Yang said. "As an undergrad, I was working in a UCLA neuroscience laboratory doing research on rat brains when a fellow student told me he was planning on attending pharmacy school and all that could be done with that degree in terms of patient care and research, so I decided to apply at the last minute."
After her education and residency at UCSF in infectious diseases, Yang completed her Master of Public Health (MPH) at UC Berkeley in 2001. Later that year she began as a faculty member at UCSF.
"What made me come back to UCSF and stay is the reputation this institution carries as a place where people want to help each other and the research is diverse," Yang said.
Yang's responsibilities entail 40 percent research, 25 percent clinical service, and the other 35 percent is comprised of teaching and other duties. Yang is a Health Sciences Clinical Professor in the School of Pharmacy's Department of Clinical Pharmacy.

In addition to research, Dr. Yang also lectures in multiple courses including drug information, immunology, pharmacology, and other topics. Her clinical practice is in Infectious Diseases, and she is one of three Infectious Diseases Clinical Pharmacists in the UCSF Medical Center.
Currently, the School of Pharmacy is undergoing a curricular transformation. The program will change from a four-year program to a three-year, year-round program.
"Along with two other co-directors, I will be designing and teaching the first course of the new curriculum which will focus on Foundational Sciences," Yang said. "Foundations will integrate the basic sciences such as pharmacokinetics, pharmacology and drug discovery with topics in health policy, law, pharmacoeconomics, epidemiology, and biostatistics."
Senate's Clinical Affairs Committee Sees Growth
Another responsibility Yang carries is her Academic Senate committee involvement. During her first year at UCSF, Yang joined the Academic Senate's School of Pharmacy Faculty Council. After that, she periodically served on Committee on Research (COR) and Committee on Academic Freedom (CAF). She was also the past chair of the Clinical Affairs Committee and currently serves as the vice-chair of the Committee on Rules and Jurisdiction (R&J).
In regards to her CAC service, Yang reviewed policies that affect UCSF clinicians and UCSF clinical affiliates.
"A major goal of mine was to increase the presence of CAC and its role in UCSF Health.  CAC is an advisory committee, but most clinical faculty don't know there is a committee that can represent them on the Academic Senate, so we made a point to make people aware that they have this resource to voice their concerns and ideas," Yang said.
This past academic year, CAC increased its presence at not just UCSF Medical Center, but also at their affiliate campuses and at the systemwide level. This was done through regular conferences with members of the UC Board of Regents Health Services Committee and clinical faculty from each of the five other UC health systems. CAC's affiliate sites include: UCSF Benioff Children's Hospital Oakland, Canopy Health, Priscilla Chan and Mark Zuckerberg San Francisco General Hospital and Trauma Center (ZSFG), and San Francisco Veterans Affairs Medical Center (SFVAMC). Each affiliate has representatives on CAC.
CAC also hosted its first town hall at ZSFG as a platform for faculty to ask questions and provide feedback on topics related to teaching, research, and care delivery.  More town halls are scheduled for the upcoming year at the other affiliate sites.  Dr. Yang was also integral in the development of the Joint Senate-Administration Review Committee on Campus Affiliations, which provided recommendations for increased input by the Academic Senate in the creation of new campus and UCSF Health affiliations.
"I have enjoyed serving on the Academic Senate over the years, because it is an opportunity to meet people outside my department and school," Yang said. "I have learned about what is important to other departments, issues they are facing, and their shared successes."
All Faculty Profiles

Dr. Kathy Yang (October, 2017)
Dr. Hope Rugo (September, 2017)
Dr. Jing Cheng (July, 2017)
Dr. Barbara Koenig (May, 2017)
Elena Flowers, PhD, RN (April, 2017)
Dr. Ryan Hernandez (March, 2017)
Rich Schneider, PhD (February, 2017)
Steve Morin, PhD (January, 2017)
Created by UC Board of Regents Standing Order 105, the UC San Francisco (UCSF) Academic Senate is empowered to exercise direct control over such academic matters as admissions for degrees and curricula, which are of central importance to the University. The UCSF Division of Academic Senate provides an independent forum to discuss faculty-related campus wide academic concerns. In other areas, the Senate exercises an active advisory role. The Academic Senate works within the larger body of UCSF, a leading university dedicated to promoting health worldwide through advanced biomedical research, graduate-level education in the life sciences and health professions, and excellence in patient care.