Day in the Life: Researcher Elena Flowers
Elena Flowers, PhD, RN, Physiological Nursing, came to UCSF as a research assistant at Zuckerberg San Francisco General Hospital and Trauma Center (ZSFGH) after her undergraduate education at UC Davis. After completing her Master of Science and Doctor of Philosophy degrees in the School of Nursing, she transitioned into her current role as a member of the faculty. Dr. Flowers is now coming up on five years at UCSF.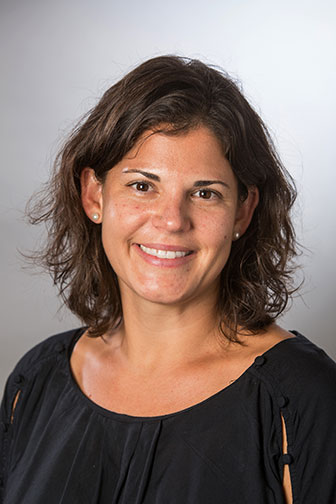 "While I am a 'newer' faculty member, my familiarity with UCSF began as a student," Flowers said. "This is an advantage, but also an adjustment. It is a process to recreate my identity from student to faculty member."
In addition to being a researcher and Assistant Professor, Dr. Flowers is a mom. Photos of her two, young daughters and their painted handprint artwork decorate her office.
 "In April, I am volunteering at my daughter's school for DNA Day to teach children about genetics ," Flowers said. "I appreciate that my job allows me the scheduling flexibility to do that."
While her job allows for flexibility, her schedule is anything but slow. It usually requires several hours of work on a Friday night to keep up with her responsibilities. When speaking to the Senate, she had just finished another interview, and she explained that since 10 a.m. she had something scheduled every hour.
 "One of the things we talk about in the School of Nursing is this idea that faculty have to be successful at teaching, research, service, and have a personal life, which is basically an impossible order," Flowers said. "It is a challenge to wear many hats and wear them well."
One thing that helps her adjust to life as a faculty member is the Clinical and Translational Science Institute (CTSI)'s K Scholars Program, which supports career development and the formation of professional relationships with other junior faculty. This program is just one of her many weekly commitments.
No "Typical" Day
Flowers works from home one-two days a week and works on various UCSF campuses the remaining days. On Tuesday, Wednesday, and Thursday, she is usually at the Parnassus campus. On Monday and alternating Fridays, she works from home. On the Fridays that she works on-campus, she is at the Mission Bay Campus where she attends the K Scholars Program in the morning and then stays at Mission Bay until 4 p.m., and she occasionally goes to Parnassus.
Her typical on-campus schedule is as follows:
6:30 a.m.: Wakes up and wakes up her children
7-8:30 a.m.: Gets ready for work, eats breakfast, and makes her children's lunches
8:30 a.m.: Drops off children at school
9-10 a.m.: Commutes to work via Bay Area Rapid Transit (BART) and San Francisco Municipal Transit Agency (Muni), while checking and responding to emails
9/10 a.m.-4:30 p.m.: Conducts research and Attends a variety of meetings, including:

Lab meetings every other week for two hours, with some time spent in the lab
Alternating Department or Funding meetings every other Thursday for 1-2 hours
Meetings with Teacher Assistants or Students for about one hour
One-on-one meetings with lab managers for about one hour
Individual and collaborative research, which is an ongoing time commitment

4:30 p.m.-6 p.m.: Commutes home and checks and responds to emails
8 p.m.-10 p.m.: Works again at home
Flowers off-campus days follow the same time schedule as her on-campus days, but because she doesn't have to commute she works straight from 8:30 a.m.-5:30 p.m. She devotes off-campus days to calls, grant applications, manuscripts, and more research. Some of the calls are with a collaborator at New York University (NYU), her laboratory manager, and conference calls for professional organizations' research committees where they review abstracts.
Flowers does not spend much hands on time in her wet lab, but she oversees the research of students and staff in it and also subcontracts her molecular research to outside core labs. While she does participate in wet lab research, she spends the majority of her research on her computer and in meetings.
Recently, Flowers had her own DNA genome sequenced, a project that she said has taken on a life of it's own.
The Results are In
In February, Flowers wrote a blog post for the UCSF Science of Caring website that detailed her genome sequencing experience. Genome sequencing gives the specific three-billion letters of an individual's DNA. DNA consists of the letters: A, C, G, and T, symbolizing adenine, cytosine, guanine, and thymine. This gives patients the ability to receive a personalized treatment plan for any future diseases or health conditions they might have.
Flowers' article explains that in 2001, genome sequencing was expensive, but with technology advancements in the past 16 years, it is becoming more affordable. Flowers' genome sequencing is funded by a Faculty Academic Renewal (FAR) Fund grant from the UCSF Academic Senate.
While Flowers said she thinks genome sequencing is now more accessible, she is unsure if it is sensible or ethical. For example, her article questioned whether sequencing a newborn's genome without their consent is ethical. Although Flowers wrestled with these questions, she decided to have her own genome sequenced, in order to better equip the advance practice nursing students she teaches. Flowers is sharing her experience with her students as they learn about the role of genomic technologies in their clinical practice.
"Before I didn't know what to expect or how I would feel on the other side of it," Flowers said. "It has been enlightening and incredibly informing to go through this whole experience."
Flowers recently received her sequencing test results back and while there are no alarming results or surprises, it allows her to have a much deeper meaning of the "Pandora's box," that is one's DNA identity. She also hopes this helps her students think about how to deal with future interactions with patients undergoing genome sequencing.
"My hope is that we can have a lot of conversations around genomic information," Flowers said. "I don't think we know yet how to prepare healthcare providers for this massive onslaught of genomic information, or how to integrate it into our genomic practice, but my goal was just to start the dialogue and start moving the path forward."
Research Endeavors
Flowers' research focuses on genomics involving precision medicine and risk factors for cardiovascular health and type 2 diabetes.
"I am trying to better understand the differences between genetic predisposition and lifestyle factors for type 2 diabetes," Flowers said. "I also look at how to optimize risk prediction and prevent type 2 diabetes in high risk racial groups."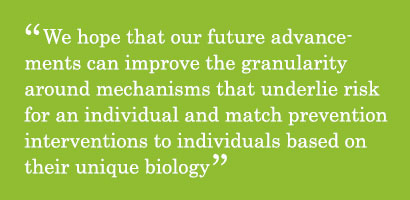 Flowers lab is a mixture of dry and wet labs and she collaborates with other faculty members, including Assistant Professor Kord Kober, PhD, Ladder Rank, another UCSF genomic laboratory lead. They manage and oversee the Nursing Genomic Lab together. Their lab functions as a resource to faculty and Flowers and Kober manage faculty activities and facilitate faculty research.
Two other faculty members who collaborate and mentor Flowers are Associate Professor Yoshimi Fukuoka, RN, PhD, FAAN, Ladder Rank, and Professor Alka Kanaya, MD, In Residence. Currently, all three are working on a pilot randomized clinical trial (RCT) examining behavioral intervention weight loss for those that are Filipino with type 2 diabetes. Next, they will study gene expression associated with insulin sensitivity and responses to intervention.
A previous study Flowers did with Kanaya looked at the effect of yoga on type 2 diabetes risk factors. For this study, they modeled trajectories for fasting blood glucose and microRNAs. Then, they evaluated whether microRNAs predicted risks for type 2 diabetes.
"Our research studies are in the preliminary phase as we look at what biomarkers can accomplish and predict," Flowers said. "We hope that our future advancements can improve the granularity around mechanisms that underlie risk for an individual and match prevention interventions to individuals based on their unique biology."
As a director of the Genomics Lab, Flowers also interacts with predoctoral students and postdoctoral fellows. With these trainees, Flowers gives students feedback on dissertations, studies design methods, reads papers, gives career advice and training development opportunities, and informs of funding opportunities. For example, one of Flowers' current postdoctoral fellows is incorporating genetic analysis into a study on sleep apnea in patients with acute coronary syndrome.
In the Classroom
Flowers also interacts with students through three classes she teaches during the fall, winter, and spring quarters. In the fall, she teaches Introduction to Human Genomics; in the winter, Implication of Genomics for Advanced Practice Nurses; and in the spring, Clinical Applications of Genomics. These classes are a hybrid of online and an in-person class once a week.
Flowers believes genomics technologies will transform healthcare at the same level that penicillin and anesthesia did.
"The biggest challenges we currently face with genomics in clinical practice is having the appropriate technology to meet patient and care provider needs," Flowers said. "Nurses have to meet challenges brought on by genomic technologies like: system issues, personnel issues, and training issues. Nurses comprise a large portion of the healthcare workforce and interact with patients more than other providers do. We can help patients understand how genomics relate to their overall health."
Created by UC Board of Regents Standing Order 105, the UC San Francisco (UCSF) Academic Senate is empowered to exercise direct control over such academic matters as admissions for degrees and curricula, which are of central importance to the University. The UCSF Division of Academic Senate provides an independent forum to discuss faculty-related campus wide academic concerns. In other areas, the Senate exercises an active advisory role. The Academic Senate works within the larger body of UCSF, a leading university dedicated to promoting health worldwide through advanced biomedical research, graduate-level education in the life sciences and health professions, and excellence in patient care.
All Faculty Profiles

Dr. Jing Cheng (July, 2017)
Dr. Barbara Koenig (May, 2017)
Elena Flowers, PhD, RN (April, 2017)
Dr. Ryan Hernandez (March, 2017)
Rich Schneider, PhD (February, 2017)
Steve Morin, PhD (January, 2017)
---
Kathryn Sill is a Communications Specialist in the Academic Senate Office, San Francisco Division. She can be reached at kathryn.sill@ucsf.edu.