Faculty Profile Dr. Barbara Koenig
May, 2017
Barbara Koenig, PhD, RN, is the new Director of the UC San Francisco Bioethics Program. She brings years of professional experience as a national expert in medical ethics.
Having trained under the creator of the initial UCSF Bioethics Program, Koenig has witnessed how the program has developed over the years.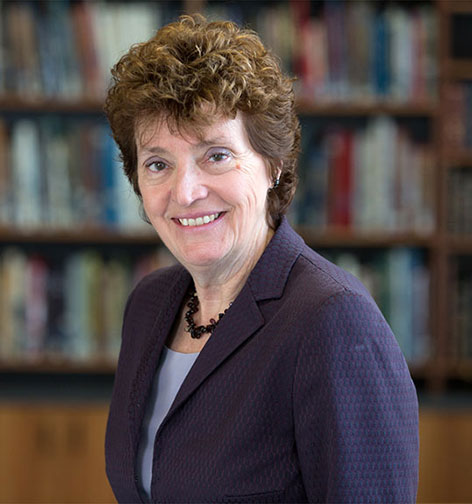 Koenig said Albert Jonsen, PhD, former Director of the UCSF Bioethics Program, began the Program in the 1970s. After Jonsen, Bernard Lo, MD, Emeritus Professor of Medicine and Emeritus Director of the Program in Medical Ethics, took over the program. Lo recently left to take a position as President of the Greenwall Foundation in New York, which supports bioethics research and young scholars. Then, Koenig took over the role in May 2016.
One of the changes Koenig intends to make is to expand the interdisciplinary field across all four schools at UCSF. The program focuses on studying and bringing attention to ethical issues in the medical, research, and healthcare fields. It's located within the Institute for Health and Aging (IHA) at the Laurel Heights campus.
The hope, Koenig said, is to integrate ethical reflection into UCSF's three domains of clinical practice, education, and research.
"Expanding the Bioethics Program into a hospital, for example, would be useful because faculty at our hospital and affiliates are confronted with significant ethical issues that should be addressed prior to implementation of a novel therapeutic," Koenig said.
Koenig is a Professor in Residence of Medical Anthropology and Bioethics in the Department of Anthropology, History, and Social Medicine in the School of Medicine. Her primary appointment is in the School of Nursing's Institute for Health and Aging.
"People in bioethics come from all kinds of fields," Koenig said. "While typically those in bioethics programs come from philosophy or law, I have a background in the social sciences and anthropology."
During her professional career, Koenig has moved around the world. Her experience at other institutions proves beneficial as it allows her to bring a diverse view on bioethics, having initially started at UCSF.
Creating the Bioethics Program at UCSF
After receiving her PhD, Koenig's first faculty position was at UCSF.  Before returning to the campus in 2011, Koenig started the Biomedical Ethics Research Programs at Stanford University and separately at the Mayo Clinic. Her experience in program building prompted the provost to invite her to re-start the UCSF Bioethics Program.
Prior to the launch of the Bioethics Program, UCSF held a Seminar Series in fall 2015 to help grow the intellectual community of those interested in bioethics. The seminars continue to this day, organized by Koenig, and feature speakers from both inside and outside UCSF. The most recent seminar, which took place in March 2017, featured speaker Risa Comer, PhD, a graduate Student at Stanford University who presented on the "Politics of Saving: Claiming the Potential of Leftover Embryos in Stem Cell Science and Christian Adoption."
Reflecting on the interdisciplinary nature of bioethics, Koenig remembers how the field as a whole has changed over the years.
"Bioethics used to consist of a group of philosophers thinking abstractly about an issue," Koenig said. "Those in social sciences made a shift in this 'arm chair' way of thinking by going out into the field and doing observational research, studying new technology, and asking critical questions about the meaning of good practice, as an anthropologist would."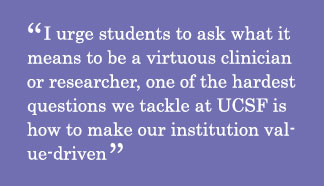 In her role as the Bioethics Program Director, Koenig constantly aims to instill in the next generation a sense of questioning.
"I urge students to ask what it means to be a virtuous clinician or researcher," Koenig said. "One of the hardest questions we tackle at UCSF is how to make our institution value-driven."
Recently, Koenig has been focusing on ethical issues that accompany changing funding mechanisms.
"Biomedical research is now often funded by industry, rather than by the government or foundations," Koenig said. "This means you have to think more carefully about how to ensure that research and clinical care actually benefit the health of the community and individual patients."
In addition to directing the Program and mentoring students, postdoctoral fellows, and junior faculty, Dr. Koenig also explores topics in bioethics through her own research.
Fighting the Fight through Research and Service
Some of Koenig's recent research foci include end-of-life care and genomics screening policies. Much of her work has addressed the ethical dimensions of technological innovation.
Currently, she works in collaboration with Laura Esserman, MD, and Laura Van 'T Veer, PhD, on a breast cancer treatment clinical trial. The National Cancer Institute recently funded Dr. Koenig's "embedded ethics" study within the WISDOM Clinical Trial, which is funded by PCORI and lead by Esserman and Van 'T Veer. Koenig's research has been funded by the National Institutes of Health (NIH) since 1990."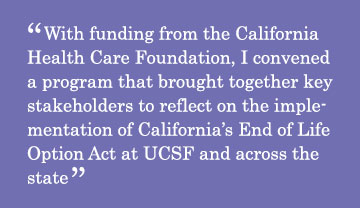 In 2015, Koenig returned to the topic of end-of-life care, which she describes as her "first research love."
"California governor Jerry Brown signed into law a bill legalizing physician aid-in-dying," Koenig said. "With funding from the California Health Care Foundation, I convened a program that brought together key stakeholders to reflect on the implementation of California's End of Life Option Act at UCSF and across the state. Bringing together advocates and proponents of physician aid-in-dying was challenging."
The project outcomes include a website with resources for clinicians and health care institutions.
Additionally, Dr. Koenig was a joint Primary Investigator of an NIH-funded project on the ethical, legal, and social implications (ELSI) in the translation of novel genomic technologies into the clinical setting. Koenig said that the UCSF Bioethics Program studies a range of novel technologies, including stem cell therapies.
Koenig also leads ELSI research for an NIH-funded study of genome sequencing in newborns, and has sought public input into California's newborn screening polices.  That project includes collaboration with the California Department of Public Health.
In the policy arena, Koenig has participated in a workshop that developed ethics guidelines on research using "big data".  This National Science Funded (NSF) funded project recently published a "Ten Simple Rules" about big data management in Public Library of Science (PLoS) Computational Biology that was a result of a two-year long project.
She has also served on a group responsible for shaping federal policy on genetic testing in the U.S. and is a fellow at the Hastings Center, a bioethics think tank in New York.  She collaborates with the joint UCSF/UC Hastings Consortium on Law, Science, and Health Policy and is actively involved in developing policy at the local, state, and federal level.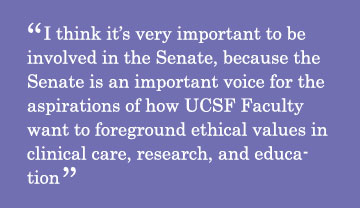 Koenig has edited two books. The first was a collection of essays about the AIDS epidemic; the volume marked the first time scholars in the medical humanities engaged with the epidemic. In her essay for the volume, Koenig drew on personal experience interacting with doctors and patients at Zuckerberg San Francisco General Hospital and Trauma Center (ZSFGH) during that time. The second book, "Revisiting Race in a Genomic Age," examines how our social understandings of race, specifically the small genetic differences across human populations, is affected by high-throughput genomic techniques. She aims to bring the perspectives of the social sciences and humanities into biomedical discussions.
Finally, Koenig serves on the Academic Senate's Graduate Council, which addresses matters related to graduate academic programs, graduate degrees, and postdoctoral education.
"I think it's very important to be involved in the Senate, because the Senate is an important voice for the aspirations of how UCSF Faculty want to foreground ethical values in clinical care, research, and education," Koenig said.
An Innovative Career in Bioethics
Koenig's career has been a balancing act. She describes her generation as the pioneers for working mothers and wives in academia.
"In the generation right before me, it was less common for those in higher education to have children or even be married," Koenig said. "My generation made this far more common and now I can be a supportive and accommodating role model to the young women faculty that are becoming mothers."
As a 25-year-old pediatric nurse, Koenig moved from her home state of Minnesota to San Francisco. She hoped to be accepted into a competitive, newly formed anthropology program as an in-state student. She began working as a pediatric nurse at UCSF and started graduate school. After receiving her PhD, she worked for five years under Dr. Jonsen.
After Jonsen left UCSF, Koenig went to Stanford University where they offered her a position as executive director in their new Center for Bioethics. The opportunity at Stanford arose during a time when it was necessary for Dr. Koenig to remain in the Bay Area. Her two children were young, she was caring for her father-in-law, and her husband was the Chair of the English Department at San Francisco State University. To this day, Koenig still stays in contact with her former Stanford peers.
Koenig's youngest child was entering college when she decided to pursue an opportunity to start the bioethics program at the Mayo Clinic in Minnesota.
"I was interested in going to Mayo because they have a nationally renowned reputation and it gave me the opportunity to address appropriate patient care, specifically end of life care," Koenig said. "I thought that I could be a part of helping solve issues that could help formulate a new national model."
At the Mayo Clinic, Koenig led practices for the Mayo Clinic Biobank and the Rochester Epidemiology Project. Its Biobank is a biorepository laboratory that collects health information from patients and volunteers used for continuing research. The Rochester Epidemiology Project is a collaboration of medical facilities that use health records from patient studies voluntarily given from individuals in Minnesota and Wisconsin. Koenig said that because Mayo Clinic was not affiliated with a university like UCSF, it was driven by a clinical enterprise.
Dr. Koenig's acceptance of the position at Mayo was made easier by the fact that her children were grown. Having been a working mother herself, she was able to relate to other working mothers at Mayo. One year during her time at Mayo, 9-12 women on her team went on maternity leave.
"It was difficult to find someone to cover them," Koenig said. "I don't think society has solved the issue of integrating career and family, but I think it is important for me to try to play my part."
While Koenig enjoyed the opportunity to work at Mayo Clinic, she left after six years and returned to UCSF because she missed the academic environment. Koenig took a three-year sabbatical while she waited for her grants from Mayo to transition to UCSF. During this, she attended the non-profit Brocher Foundation in Geneva, Switzerland, which is a center for bioethical research. This allowed Koenig to process her next steps at UCSF, to which she returned during the 2011-2012 academic school year.
While Koenig is invested in UCSF, she enjoys many things outside of her role here, including cooking, knitting, hiking, exercise, and travel. Her love of travel include living in London and France for a year each, because her husband served as a director for a junior year abroad program for California State University.
For faculty interested in learning more about the UCSF Bioethics program, Koenig encourages them to utilize her research ethics consultation service that is run through the UCSF Clinical and Translational Science Institute (CTSI), which is a resource for individuals who experience challenging questions in research ethics.
Created by UC Board of Regents Standing Order 105, the UC San Francisco (UCSF) Academic Senate is empowered to exercise direct control over such academic matters as admissions for degrees and curricula, which are of central importance to the University. The UCSF Division of Academic Senate provides an independent forum to discuss faculty-related campus wide academic concerns. In other areas, the Senate exercises an active advisory role. The Academic Senate works within the larger body of UCSF, a leading university dedicated to promoting health worldwide through advanced biomedical research, graduate-level education in the life sciences and health professions, and excellence in patient care.
All Faculty Profiles

Dr. Jing Cheng (July, 2017)
Dr. Barbara Koenig (May, 2017)
Elena Flowers, PhD, RN (April, 2017)
Dr. Ryan Hernandez (March, 2017)
Rich Schneider, PhD (February, 2017)
Steve Morin, PhD (January, 2017)