Clinical Affairs Committee Holds First Faculty Town Hall
The Academic Senate's Clinical Affairs Committee (CAC) held its first Faculty Town Hall on Tuesday, Feb. 27 at Zuckerberg San Francisco General Hospital (ZSFGH) with a reception afterwards. It focused on the theme "Common Grounds: Shared Governance at ZSFG."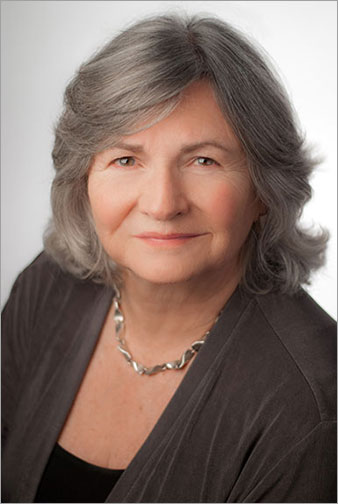 The town hall brought together faculty from all four schools and leadership from ZSFGH, with the hope of educating faculty on the governing structure of the Academic Senate and CAC, and to also give faculty a platform to voice their concerns and ideas related to teaching, research and care delivery.
Special guest speaker, ZSFGH Vice Dean Sue Carlisle, MD, PhD, School of Medicine, Clinical X, Full, Anesthesia, highlighted the partnership between UC San Francisco (UCSF) and ZSFGH. At ZSFGH, the City and County of San Francisco governs the nursing staff and all regulatory items. UCSF is responsible for all physician services, IT & Ward 86.  Over one third of all School of Medicine teaching happens at ZSFGH.
Within ZSFGH, UCSF participates in the following clinical services: a Psychiatric Emergency Service (PES), the first nationwide Traumatic Brain Injury program, a birth center, the first California Acute Care for Elders (ACE) geriatric inpatient unit, and Video Conferencing Medical Interpretation (VMI), which allows non-English speaking patients to receive instant translation.
UCSF also adheres to special regional designations, some of which include: tending to a certain volume of severely injured patients, having general and specialty surgeons on duty 24/7, and demonstrating the ability to provide complete patient care. These designations also include being a Level I Trauma Center and providing stroke and heart attack services, also known as ST-Elevation Myocardial Infarction (STEMI).
ZSFGH remains the largest outpatient pediatric clinic in San Francisco and has over half a million ambulatory care visits annually. Vice Dean Carlisle noted that in the future, they would hope to have a helipad for patients, and further noted that the end goal of any partnership between UCSF and ZSFGH is an increased focus on patient and community care. As part of that, ZSFGH has also emphasized faculty trainings. Roughly, three hundred faculty have completed Lean Journey and A3 Thinking training in the past five years. Lean, a quality improvement method created by Toyota Motor Company, was implemented at ZSFGH to improve the quality of care and cost effectiveness. A component of Lean, A3 Thinking reduces errors in the workplace and aims to attract superb employees.
Vice Dean Carlisle also serves as an ex officio member on CAC, and is responsible for managing the partnership between ZSFGH and UCSF, including new and ongoing rebuilding projects. Vice Dean Carlisle presented the initial plan for the new Board of Supervisors-approved research and academic building. Encompassing 175,000 gross square feet, the building plan expands toward Vermont Street to allow for greater access, and includes bench lab research, desktop research and office space. UCSF will finance all building renovations at an estimate of $188 million.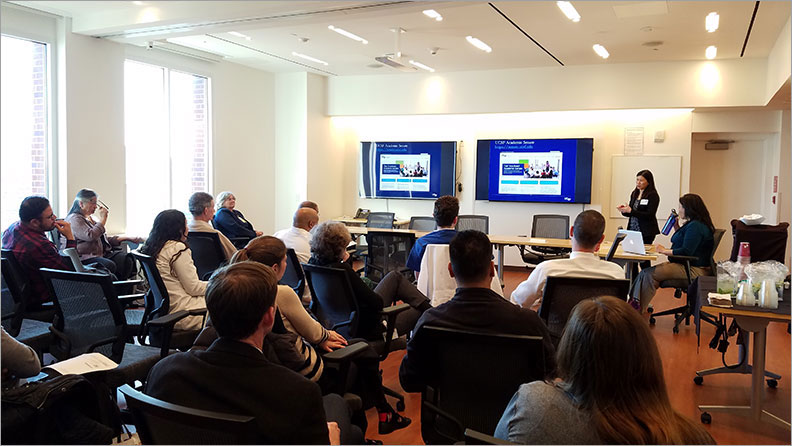 The opening speaker of the event was CAC Chair, Kathy Yang, PharmD, MPH. Fourteen clinical faculty from various UCSF locations comprises the Academic Senate's Clinical Affairs Committee, which meets monthly. CAC is responsible for reviewing policies that affect clinicians at UCSF and its clinical affiliates. At ZSFGH there are 336 UCSF Faculty who hold an appointment of 50% or greater, with the majority being in the Health Sciences Clinical series. UCSF remains the sole UC campus with a Senate committee devoted to clinical matters.
At the Town Hall, the future of the collaboration between CAC, ZSFGH and other sites was discussed. CAC is one of the committees of UCSF's Academic Senate that does not have a counterpart at the Systemwide Academic Senate situated at the University of California Office of the President (UCOP). The UCSF Academic Senate continues to advocate for faculty representation at the systemwide level in regards to health sciences faculty concerns and to promote a systemwide Clinical Affairs Committee.
Within the past year, CAC has worked on the following:
If you have specific topics you'd like CAC to explore within its committee, please contact Karla Goodbody, Senate Analyst (karla.goodbody@ucsf.edu), who assisted with the organization of the ZSFGH Town Hall, and staffs the Academic Senate Clinical Affairs Committee (CAC).
---
Kathryn Sill is a Communications Specialist in the Academic Senate Office, San Francisco Division. She can be reached at kathryn.sill@ucsf.edu.