Space Story Installment 2: Mission Bay and the UCSF Center for Vision Neuroscience
August 16, 2018
The UC San Francisco Academic Senate is collaborating with other entities to navigate space issues. The Senate's role and other campus space topics will be covered in a quarterly, five-part written series - which will be posted on the Senate website, so that faculty can stay up-to-date on topics relating to space at  Parnassus Heights, Mission Bay, Mount Zion, Laurel Heights, and Priscilla Chan and Mark Zuckerberg San Francisco General Hospital and Trauma Center (ZSFG).
This article is the second installment of the series, and features updates on the Mission Bay campus. View the first installment here. Academic Senate Communications Specialist, Kathryn Sill will be reporting on these stories in collaboration with contacts from the School of Medicine Dean's Office, the UCSF Space website, and UCSF Real Estate.
UCSF's Mission Bay campus's first research building opened in 2003, and now includes teaching, research, and clinical care locations for 3,500 faculty, students, staff, patients, and other visitors. As the campus continues to grow, there are building projects that are underway, such as the Joan and Sanford I. Weill Neurosciences Building, and the Precision Cancer Medicine Building (PCMB). This article will mainly focus on the Center for Vision Neuroscience (CVN)  building project and provide a brief summary of the other two current Mission Bay building projects. While this article won't expand on this, there is also construction happening close to the Mission Bay campus, such as the Minnesota Street Graduate Student and Trainee Housing construction. Another construction project is the Child, Teen and Family Center and Department of Psychiatry Building on Third Street. This developer-built building will house the UCSF Department of Psychiatry upon completion in 2020. Finally, a short update on UCSF campus-wide building projects outside of Mission Bay will be at the end of this article.
Center for Vision Neuroscience
Under construction on the Mission Bay parcel known as Block 33, the UCSF Center for Vision Neuroscience (CVN) construction is scheduled for completion in fourth quarter 2019 with occupants expected to move in between fourth quarter 2019 and first quarter 2020. Located across the street from the UCSF Medical Center at Mission Bay, this 343,000-square-foot building will be comprised of three parts: a 12-story tower, a five-story south wing, and a three-story north wing. The twelve-story tower will be an open-plan space for administrative functions and desktop research and will primarily house faculty and staff currently at Laurel Heights. The five-story south wing will house the CVN, which combines the programs for the Francis I. (F.I.) Proctor Foundation and the Department of Ophthalmology, and will consist of clinic, meeting space, auditorium, dry laboratory, academic support, and teaching facilities. Lastly, the three-story north wing will include a rooftop terrace, conference rooms, and meeting spaces.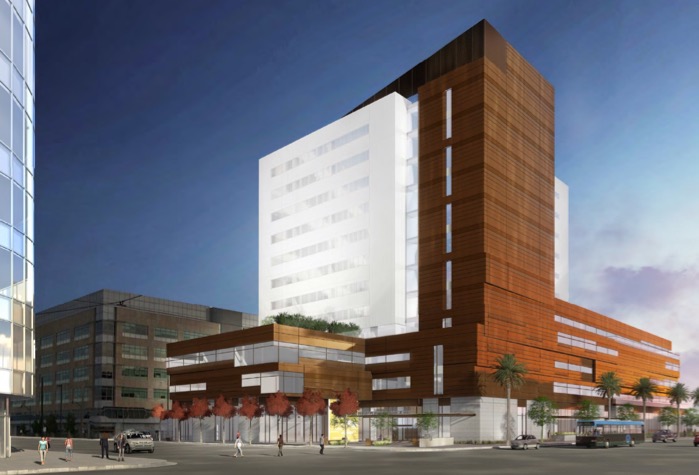 The CVN Building Programming Committee is charged with providing feedback on the design and development of the building, which began in 2015. The Committee consists of 26 UCSF faculty and staff members who report to the UCSF Space Committee. The CVN Building Programming Committee continues to carry out their duties, and will soon transition into a building committee comprised of building occupant groups.
A website is being created to provide future building residents with information about CVN. There is also a frequently asked questions (FAQ) web page on the Space website with information on communication, personal space and working in the building, building governance and decision-making, and transportation and working at Mission Bay.
The Senate recently spoke with representatives from two of the groups moving into CVN:
Dr. McLeod and his department are primarily moving from the Parnassus Heights campus into the south wing of CVN. Fortunately, their building efforts were supported through a number of different donors, both new and longtime. Dr. McLeod said his department has been actively engaged in the building design process of CVN.
"Our department began looking for a new space, because UC Hall was deemed seismically unsafe," Dr. McLeod said. "Much of the research we do focuses on neuroscience and we found that Mission Bay would be the best new location for us."
During January 2016, Dr. McLeod traveled with a group across the country, taking tours of different eye institute campuses. In addition to Dr. McLeod, this group included:
Michael Bade, Associate Vice Chancellor, Capital Programs and Campus Architect, UCSF Real Estate
Patrick McGee, Senior Project Manager of CVN, UCSF Real Estate
Nisha Acharya, MD, Professor, Ophthalmology and Associate Director, F.I. Proctor Foundation
Mike Panion, Associate Chair of Finance and Administration, Department of Surgery
M. Reza Vagefi, MD, Medical Director and Associate Professor, Ophthalmology
Jennifer Vo and Sharon Woodworth, who represented the consulting architecture firm Perkins + Will at the time of the trip
After their trips, they consulted with a consulting group and although they didn't dictate how the building was designed, they were able to provide feedback on the design process.
"Our building will be a multi-disciplinary building," Dr. McLeod said. "It will house space for clinics, offices, surgery, teaching, and laboratory resources for the Proctor Clinical Diagnostic Laboratory."
Other UCSF staff who have contributed to planning CVN include Ophthalmology Practice Manager Chris Brown and Administration Manager Rick Seefeldt. To stay updated, Dr. McLeod said their department communicates with Patrick McGee, who delivers information to them on project updates and any direction he receives from the campuswide UCSF Space Committee.
Both Dr. McLeod and Dr. Adams said their departments' move to Mission Bay will bring many changes, including a different commute. There are robust change management efforts currently in place to support all staff and faculty moving to CVN. The work includes information and resources to fully communicate transportation information to all future occupants and share their concerns with UCSF Transportation Services. In addition, meetings and town halls are being scheduled to inform future occupants of transportation options to the UCSF Mission Bay campus.
"Moving to Mission Bay raises concerns over parking availability, as our department has a number of people who drive to work, because they do not have access to suitable public transportation," Dr. Adams said. "This is why I think there is a need for campus ferry services and charging stations for those who have purchased electric vehicles, to make the commute more affordable."
UCSF Transportation Services is aware of the new occupants moving to the Mission Bay campus and is actively working to promote new programs and services, like the university's Transportation Demand Management program. They are also advocating for more mass transit service to the Mission Bay campus via discussions with the City and County of San Francisco.
Dr. Adams and her department are moving from the Laurel Heights campus into the 12-story tower at CVN. Dr. Adams' department, DAHSM, is comprised of two programs: the Medical Anthropology PhD program, which is a joint program with UC Berkeley, and the History of Health Sciences PhD program.
"I am excited to move to CVN and be around other social science, science, and clinical groups," Dr. Adams said. "By moving to Mission Bay, we will be able to interact more with those we collaborate with in research."
Dr. Adams voiced concerns over how DAHSM's physical program requirements would be addressed, and UCSF recognizing this concern is working with them as part of the change management effort to include new, open-minded solutions to housing books, such as shared libraries in conference rooms. UCSF is seeking to find new, creative ways to accommodate these types of unique needs within their space constraints.
To support the changes that UCSF staff and faculty will experience as part of the moves to new buildings, the Open Plan Change Support Project began in July 2017 with executive co-sponsorship from EVCP Dan Lowenstein and Senior Vice Chancellor Paul Jenny. This effort, led by Cristina Morrison, provides ongoing change management support to prepare occupants for transition to open plan buildings. The project includes support on working in the building, building governance structure and roles, shared services and shared costs within the open plan environment, and transitioning and building community. All of this work for CVN will continue through June 2020, when occupants have fully moved into the buildings. More information can be found on the Open Plan Design page .
Regular updates on CVN construction can be found online on space.ucsf.edu.
Other Mission Bay Projects
Two other Mission Bay building projects are also underway. The Joan and Sanford I. Weill Neurosciences Building will serve as the headquarters of the UCSF Weill Institute for Neurosciences, and unite the Neurology, Psychiatry, and Neurological Surgery departments and the Neuroscience Graduate Program. The new facility is a 270,000-square-foot, six-story building with space for research, educational training, offices, and an outpatient clinic. The research space will encompass clinical and co-located dry and wet laboratories.
Throughout this building process, the Academic Senate is being updated on changes taking place within this building. At the March Senate Committee on Space (SPC) meeting, it was reported that a building committee group for the UCSF Weill Institute for Neurosciences was presented with a design plan and schedule. The scheduled completion date for construction of this building is fall 2020.
Another major building project at Mission Bay is the Precision Cancer Medicine Building (PCMB), which will provide outpatient adult cancer services. This 170,000-square-foot, six-story building will house space for scientists to collaborate on tumor research by consolidating practices at Mount Zion and Ron Conway Family Gateway Medical Building at Mission Bay into one building.
The current tumor practices have reached maximum capacity, further stressing the need for PCMB. This building will include space for: infusion, pathology, radiology, radiation oncology, blood draw, a patient resource center, and support services. The radiation services at PCMB will allow for same-day imaging results and services.
PCMB will not limit cancer services to just Mission Bay. Mount Zion will continue to provide radiation oncology exams and Osher Center for Integrative Medicine classes. Parnassus Heights will continue to house hematology and bone marrow transplant. PCMB is scheduled to open to patients in 2019.
To stay updated on future Senate space stories, visit the Senate website and to find more information on UCSF space renovations visit the UCSF Space Website, which is separate from the Senate.
Other ongoing UCSF campus updates:

Zuckerberg San Francisco General Hospital and Trauma Center:
UCSF has partnered with ZSFG for over 140-years. UCSF is building a new research and academic building at the Priscilla Chan and Mark Zuckerberg San Francisco General Hospital and Trauma Center Campus (ZSFG) that is expected to house and consolidate some of the university's research and teaching activity at ZSFG. The new five-story facility will be at 23rd Street between Vermont and Utah Streets, south of the existing medical building on what is currently a surface parking lot. It is expected to contain a mix of state-of-the-art research, teaching, and administrative space. UCSF will gather the residential and business community's feedback on the academic research building through quarterly community meetings.

Comprehensive Parnassus Heights Plan:
The University launched a planning process in the spring to define a bold, long-term vision to revitalize its historic Parnassus Heights campus to sustain its excellence across research, education and patient care. The effort is led by the Parnassus Master Plan (PMP) Steering Committee, co-chaired by Executive Vice Chancellor and Provost Daniel Lowenstein, MD, and Paul Jenny, Senior Vice Chancellor Finance and Administration. Xiao Hu, PhD, Associate Professor, Physiological Nursing, School of Nursing (SON) serves as the Senate representative on the PMP Steering Committee. The PMP Steering Committee met in March and began creating concepts for "Peak to Park," a design that will develop the access to Parnassus by uniting the area between Mount Sutro and Golden Gate Park.
 

The PMP Steering Committee has a subgroup focused on planning Central Research Labs (CRL), also known as "CoLabs at Parnassus", led by David Erle, MD, Professor of Medicine and Director of UCSF Functional Genomics Core Facility. The CoLabs Subgroup began planning in early 2018, and has provided critical input and feedback regarding the activities, equipment, personnel, and space for CRL. At the Senate SPC April meeting, Lori Yamauchi, Associate Vice Chancellor, Campus Planning, said that the CRL Subgroup will take space programming recommendations to the PMP Steering Committee. One of the main topics raised was whether the accommodation of CRL will cause some people to relocate.
Created by UC Board of Regents Standing Order 105, the UC San Francisco (UCSF) Academic Senate is empowered to exercise direct control over such academic matters as admissions for degrees and curricula, which are of central importance to the University. The UCSF Division of Academic Senate provides an independent forum to discuss faculty-related campus wide academic concerns. In other areas, the Senate exercises an active advisory role. The Academic Senate works within the larger body of UCSF, a leading university dedicated to promoting health worldwide through advanced biomedical research, graduate-level education in the life sciences and health professions, and excellence in patient care.