Lifetime Mentoring Award v. Academic Senate's Distinction in Mentoring Award
Mentoring efforts and needs change as students, residents, fellows, and faculty progress through their education and academic careers. Recognizing that, both the University of California San Francisco's Academic Senate office and the Office of Academic Affairs and Faculty Development and Advancement (OAAFDA) grant annual awards to faculty members for their mentoring to these different groups.
What sets these awards apart from others at UCSF is that they don't limit faculty recipients to one School or department, but they are campuswide. The Senate's award is the Distinction in Mentoring (DIM) Award and the OAAFDA award is the Lifetime Achievement in Mentoring Award. Both seek to celebrate and encourage faculty to be involved mentors, helping both them and their mentees develop.  The Senate has also given a Distinction in Teaching Award (DIT) since 1958.
Both the Senate and the Lifetime Achievement Award honor faculty at varying levels, because of differing expectations. A strong mentor at an Associate level will demonstrate a different type of acumen than a mentor at Full Professor level. There are also different types of mentoring necessary for faculty at different phases of their career, whether that be transitioning from fellow to faculty member, Assistant Professor to Associate Professor, or Associate Professor to Full Professor.
Each of these awards requires specific years of service. The Senate's Distinction in Mentoring Award honors both those in the rank of Associate Professor and full Professor. The Teaching Award honors those with five years or less of service, and those with five years or more of service. The Lifetime Achievement Award honors Senior Faculty members with ten years or more of service, but it typically goes to those with 20-25 years or more of service.
UCSF defines mentorship as more than just interacting with mentees during clinical rotations. It is comprised of not only giving career and clinical advice, but also holding consistent meetings over a period of time. According to the UCSF Faculty Mentoring Program's Faculty Mentoring Toolkit, a mentor will "act as a teacher, sponsor, guide, exemplar, counselor, moral support—but most important is to assist and facilitate the realization of the dream." Mentors shouldn't force their dreams on their mentee, rather help the mentee realize their own needs and abilities.
The Toolkit recommends a time commitment for mentor meetings as a minimum of two to three times per year. Mentors should promote independence, encourage, and lead by example, offering constructive feedback where applicable.
Mentoring is beneficial, because it promotes career advancement to a specific series or rank. According to the UCSF Faculty Handbook for Success, Advancement, and Promotion developed by the UCSF Academic Senate, each series requires different criteria for promotion, so a mentor must adapt to fit the needs of their specific mentee. Mentoring is also beneficial, because it increases career satisfaction by developing a mentee's clinical, networking, research, and teaching skills. A mentor's role is different from that of a manager, sponsor, or even a coach, because mentors have greater involvement by helping with the advancement process. If faculty handle mentorships adequately, both the mentor and mentee benefit from the professional relationship.
Senate's 2017 Distinction Awards
The Distinction in Mentoring Award, which began in 2008, honors faculty with an outstanding history of mentoring faculty and fellows during their career progression. Awardees consistently demonstrate mentoring efforts that go above and beyond the norm within UCSF. Both Senate and non-Senate series faculty from all schools are eligible for this award, permitting they meet the 50% appointment criteria.
The recipients of the 2017 DIM awards were honored on Tuesday, April 25 with an event open to colleagues and family in the Lange Room of the UCSF Parnassus Library.

Recipients for the Distinction in Mentoring Awards were: M. Maria Glymour, ScD, MS, and Miriam Kuppermann, PhD, MPH. Glymour is an Associate Professor in the Department of Epidemiology and Biostatistics, School of Medicine. Kuppermann is a Professor in Residence within the departments of Obstetrics, Gynecology and Reproductive Sciences, and Epidemiology and Biostatistics, School of Medicine.
During her award acceptance speech, Glymour said the DIM Award is a self-serving award.
"By receiving this, the rewards of helping your colleagues succeed come back to you," Glymour said.
The Committee on Academic Personnel (CAP) organizes the Academic Senate's DIM/DIT Awards. In order to select Distinction in Mentoring recipients, Associate Deans at every School chose members for a selection committee comprised of a CAP member chair and eight other members, half of which are Professors and the other half are Associate Professors.
The members and chairs of the DIM Award Selection Committee rotate annually. This allows for a new and fair evaluation of nominees. Pamela Den Besten, DDS, MS, Professor of Orofacial Sciences in the School of Dentistry, served as the Chair of the DIM Award Selection Committee this year. Den Besten worked with the Senate Office to create the meeting agenda and review discussion.
"All members of the committee review and score the nominations independently," Den Besten said. "Those scores are provided to the Senate Office in advance of review meetings, so as to establish a baseline for the discussion. Then, we meet for multiple voting rounds to choose the final candidates."
Den Besten said that the committee took several rounds of voting before selecting awardees, because the nominees were strong and the Senate received three times the usual volume of DIM applicants this year.
"I know I can speak for everyone who was on the review committee that it is an incredibly humbling experience to read what your colleagues are accomplishing, on top of other commitments, through the personal stories shared in nomination letters," Den Besten said. "It makes you appreciate working at an institution with such impressive colleagues."
The other Distinguished Award the Senate gives is the Distinction in Teaching Award, which credits professors for outstanding interaction with students and residents. Recent recipients for the Distinction in Teaching Awards are: Jennifer Perkins, DDs, MD, and Vincanne Adams, PhD. Perkins is a Health Sciences Assistant Clinical Professor, Department of Oral and Maxillofacial Surgery, School of Dentistry. She has been at the UCSF for less than five years. Adams is a Professor and Vice Chair, Department of History and Social Medicine, School of Medicine. She has been at UCSF for more than five years.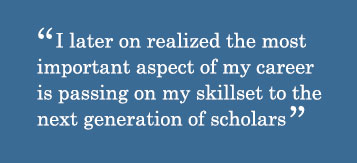 During her acceptance speech Adams said her thoughts on teaching have shifted since the early part of her career.
"When I was a younger scholar, I thought research was the most important thing and that teaching was secondary, but I later on realized the most important aspect of my career is passing on my skillset to the next generation of scholars," Adams said.
Types of distinguished teaching include: didactic, demonstrative, bench, and bedside. To select Distinction in Teaching recipients, CAP creates a committee comprised of four faculty and four students, with two members from every School. The Associate Dean at each School selects the student representatives. Students, residents, fellows, or faculty can nominate faculty for this award by assessing the nominee's availability, versatility, outstanding teaching style or aids, teaching effectiveness, and how they meet student's professional and academic needs. As with the DIM Award, recipients exhibit behavior that goes above and beyond the already exemplary standards of UCSF.
While the Distinguished Faculty Awards and the Lifetime Achievement Award recognize faculty at different years of service, both aim to cultivate a culture of outstanding mentoring or teaching at UCSF.
2017 Lifetime Achievement in Mentoring Award
The 2017 Lifetime Achievement in Mentoring Award, which began in 2007, acknowledges one Senior Faculty member who demonstrates excellence as a long-term faculty and mentor. Similar to the Senate's Distinguished Faculty Awards, nominations come from all Schools, bearing they hold an appointment greater than 50% and are non-retired, active faculty members.
The award was created by the Faculty Mentoring Program within the OAAFDA. This program is led by Mitch Feldman, MD, Associate Vice Provost of Faculty Mentoring, who expanded the program across all Schools and five faculty series.
"The Faculty Mentoring Program helps support a culture of mentoring at UCSF by pairing Assistant Professors with career mentors, holding mentorship workshops, and creating mentoring awards," Feldman said.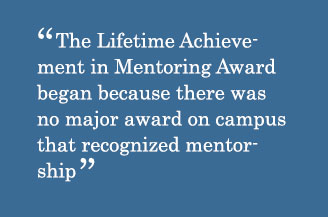 Feldman worked with Irené Merry, Coordinator for the Campus Council on Faculty Life, on the Lifetime Achievement in Mentoring Award by assembling the call for applications and organizing criteria.
"The Lifetime Achievement in Mentoring Award began because there was no major award on campus that recognized mentorship," Feldman said. "There were many teaching awards, but few mentoring awards and it was time we recognized the sustained commitment of senior faculty to mentoring by creating this major award."
Both the Campus Council and the Lifetime Mentoring Award are within OAAFDA. Merry said that the Campus Council on Faculty Life and the Faculty Mentoring Program were established in 2005 in response to the 2001 Climate Survey of Faculty, which identified action points, including the establishment of a more robust mentoring program. It was also the impetus behind the creation of the Lifetime Achievement in Mentoring Award.
"We select recipients by considering four areas: impact on mentees' career development, career productivity of mentees, nomination letters, and breadth and depth of mentoring across schools, departments, and campuses," Merry said.
This year, the award ceremony will take place on June 29 at the Parnassus campus in the Millberry Union building, and recognize Abul K. Abbas, MD, MBBS, Distinguished Professor and Chair, Department of Pathology, School of Medicine.
"It is a tremendous honor to be chosen for this mentoring award, especially at an institution that has so many outstanding mentors," Abbas said. "This award is valuable to me, because working with students and trainees has always been a big part of my life."
During his time at UCSF, Abbas has overseen a research program comprised of postdoctoral fellows and technicians. Over the past two years, his duties shifted to handling administrative responsibilities in his Chairmanship role and he teaches immunology courses to first year medical students.
Prior to coming to UCSF, Abbas oversaw a laboratory for the Immunology Research Division at Harvard Medical School. During his collective 20 years at Harvard and 18 years at UCSF, he's held direct supervisor roles for 50-60 postdoctoral fellows and graduate students, but also interacted and gave career advice to an even greater number of people.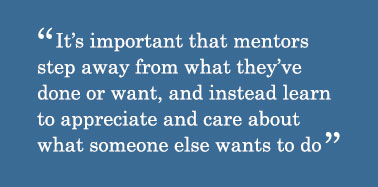 "One of my recent mentees studied at UCSF and I helped him set up his laboratory and advised him on grant writing and projects as he moved into an independent career path," Abbas said. "It has been wonderful to see him succeed at UCSF."
Abbas believes what has made that and other mentorships successful is the aspect of listening to what others are hoping to accomplish. This was reflected in one of the nomination letters that described Abbas as someone who provides support, while fully giving his mentees autonomy over their future.
"You have to learn to stand in their shoes," Abbas said. "I think too often we tend to project our own goals and aspirations onto other people. It's important that mentors step away from what they've done or want, and instead learn to appreciate and care about what someone else wants to do."
Created by UC Board of Regents Standing Order 105, the UC San Francisco (UCSF) Academic Senate is empowered to exercise direct control over such academic matters as admissions for degrees and curricula, which are of central importance to the University. The UCSF Division of Academic Senate provides an independent forum to discuss faculty-related campus wide academic concerns. In other areas, the Senate exercises an active advisory role. The Academic Senate works within the larger body of UCSF, a leading university dedicated to promoting health worldwide through advanced biomedical research, graduate-level education in the life sciences and health professions, and excellence in patient care.
---
Kathryn Sill is a Communications Specialist in the Academic Senate Office, San Francisco Division. She can be reached at kathryn.sill@ucsf.edu.