63rd Annual Faculty Research Lecture in Basic Science
Awarded to Kevin Shannon, MD
The Academic Senate is pleased to announce the selection of Kevin Shannon, MD, as recipient of the Sixty-Third Annual Faculty Research Lectureship – Basic Science for his contributions to cancer and developmental disorders through his research on aberrant Ras signaling. The lecture, titled "Ras, Development, and Leukemia" will take place on TBD, 2020 in Byers Auditorium, Mission Bay Campus. The event will be livestreamed and a reception will follow.
---
Lecture Title: Ras, Development, and Leukemia
Date/Location: TBD
UCSF Events Calendar: RSVP on the UCSF Events Calendar website.
---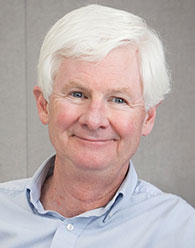 A thought leader in the area of cancer research policy and physician/scientist training, Dr. Shannon's research has defined causative mutations, elegantly characterized their biochemical and functional properties, and engineered innovative and accurate in vivo models that have provided novel insights into mechanisms of response and resistance to anticancer drugs.
Dr. Shannon has also taken an active role in mentoring numerous individuals who study areas outside of his primary interests. He has influenced the lives and careers of numerous medical students, residents, fellows, junior and senior faculty, and colleagues, in the United States as well as abroad.
Recently Dr. Shannon was awarded the prestigious Society of Memorial Sloan Kettering Prize, given annually to an individual who has made significant or groundbreaking contributions to the field of pediatric oncology.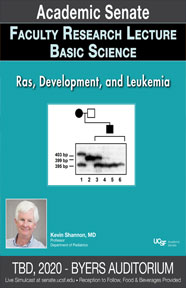 Dr. Shannon is a Professor in the Department of Pediatrics at the University of California, San Francisco. He received his MD from Cornell in 1979, and trained as a pediatric resident at UT Southwestern and a hematology/oncology fellow at UCSF where he worked in the laboratory of YW Kan. Dr. Shannon served in the United States Navy Medical Corps from 1982-92.  
The Sixty-Third Annual Faculty Research Lecture – Basic Science will be held in Byers Auditorium, Mission Bay Campus on TBD, 2020, and will be livestreamed. Refreshments will be provided. The lecture is open to the campus community and the general public.
Since 1957, this award has been bestowed on an individual member of the UCSF faculty who has made a distinguished record in basic science. Nominations are made by UCSF faculty, who consider the basic science research contributions of their colleagues and submit nominations for this prestigious award to the Academic Senate Committee on Research. Each year, the Committee on Research selects the recipient of this award. 
A list of the past recipients of the award can be viewed at https://senate.ucsf.edu/all-awards/frlbs
---