58th Annual Faculty Research Lecture in Basic Science
Awarded to Susan J. Fisher, PhD
The Academic Senate is pleased to announce the selection of Susan J. Fisher, PhD, as recipient of the 58th Annual Faculty Research Lectureship – Basic Science for her transformative research on human pregnancy as well as stem cell biology and mass spectrometry. The lecture, titled "Mad About Science: Placentas, Stem Cells and Mass Spectra" will take place on Tuesday, March 10, 2015 at 3:30 p.m. in Cole Hall, Parnassus Campus. The event will be simulcast and a reception will follow.
---
Lecture Title: Mad About Science: Placentas, Stem Cells and Mass Spectra
Date/Location: Tuesday, March 10, 2015 at 3:30 p.m. in Cole Hall, Parnassus Campus
Live Simulcast: http://lecture.ucsf.edu/ets/Play/44a1043ae5a34d51b2f83e43543cde451d
---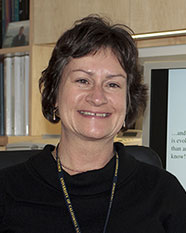 A world authority on placentation, Dr. Fisher and her group have pioneered methods for studying the human placenta that have led to numerous advances in our understanding of how this transient organ carries out its many remarkable functions during normal pregnancy. In turn, this work has enabled elucidation of the placental defects that are associated with common pregnancy complications, including preeclampsia and preterm labor. Her group also studies the earliest stages of human development. Their contributions include discovery of a key step in implantation and new methods for deriving human embryonic stem cells. In parallel, they use mass spectrometry approaches to decipher elements of carbohydrate structures that bacteria use as receptors and to compile proteomes in pursuit of biomarkers for diseases, including cancer and environmental exposures.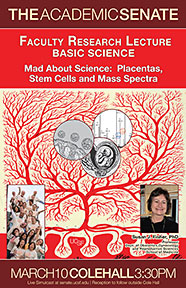 Dr. Fisher has published over 200 peer-reviewed publications and book chapters. She is a previous recipient of the UCSF Academic Senate Distinction in Teaching Award and the UCSF Graduate Association Outstanding Faculty Mentorship Award. Recent honors include the Pioneer Award in Reproductive Sciences jointly sponsored by the Marine Biological Laboratory, The Burroughs Welcome Foundation and the National Institute of Child Health and Human Development. She is a Fellow of the American Association for the Advancement of Science.Dr. Fisher is a Professor in the Departments of Obstetrics, Gynecology and Reproductive Sciences and Anatomy. She is a member of the Center for Reproductive Sciences and the Eli & Edythe Broad Center for Regeneration Medicine and Stem Cell Research at UCSF. She is Director of the Human Embryonic Stem Cell Program and Faculty Director of the UCSF Sandler-Moore Mass Spectrometry Core Facility. She received her PhD from University of Kentucky where she also completed a postdoctoral fellowship. She joined the UCSF School of Dentistry in 1982.
The 58th Annual Faculty Research Lecture – Basic Science will be held in Cole Hall, Parnassus Campus on Tuesday, March 10, 2015, at 3:30 p.m. and will be simulcast to other UCSF sites as availability permits. Refreshments will be provided. The lecture is open to the campus community and the general public.
Since 1957, this award has been bestowed on an individual member of the UCSF faculty who has made a distinguished record in basic science. Nominations are made by UCSF faculty, who consider scientific research contributions of their colleagues and submit nominations for this prestigious award to the Academic Senate Committee on Research. Each year, the Committee on Research selects the recipient of this award.
---