The Senate Honors Awardees at Distinguished Faculty Event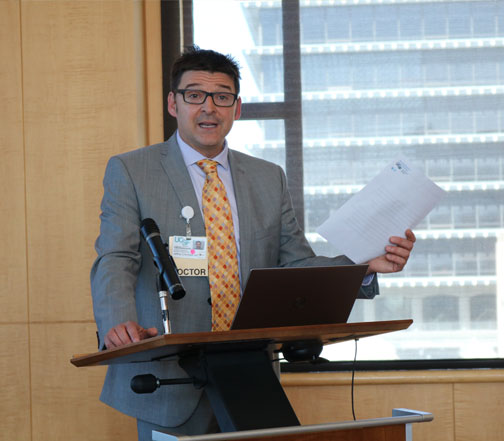 Throughout their career, UC San Francisco faculty put in great efforts to respond to mentoring and teaching responsibilities. The Academic Senate Committee on Academic Personnel (CAP) honors these efforts by awarding four faculty annually with the Senate's Distinction In Mentoring (DIM) and the Distinction In Teaching (DIT) Awards.
This year's recipients were recognized during an award ceremony surrounded by colleagues and family on Tuesday, May 29, in the UCSF Library's Lange Room on the Parnassus campus. Each recipient gave an acceptance speech.
The DIM Award, which began in 2009, honors faculty with an outstanding history of mentoring faculty and trainees. Two faculty recipients were given this award, one at the rank of an Associate Professor and one at the rank of Full Professor. The DIT Award, begun in 1958, and credits professors for outstanding interaction with students and residents. This award is given to one faculty member with five years or less of service, and one with five years or more of service.
These awards honor faculty who walk the talk of UCSF, be it a demonstration of PRIDE values, or through consistent efforts of exceptional patient care, research, teaching, or diversity contributions.
Receiving this award is as one recipient described it, the "pinnacle of their career." The awards are unique from others at UCSF, as they are campuswide, rather than just one School or department. Both Senate and non-Senate series faculty from all schools are eligible, permitting they meet the 50% appointment criteria.
Distinction in Teaching Recipients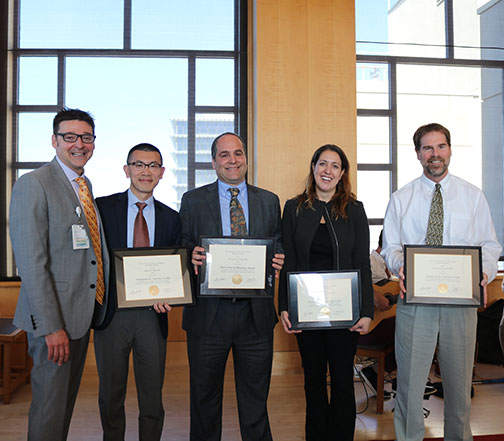 The 2018 Academic Senate DIT Award for faculty at UCSF for five years or fewer recipient is Binh An P. Phan, MD, associate professor of Clinical Medicine, Department of Medicine, School of Medicine. One nominator described Phan as an educator whose enthusiasm for teaching leads to success. Another said he has taught students to strive for brilliance in clinical education, not just in words, but through his actions.
When accepting his award, Phan acknowledged that "it's easy to be a great teacher, when you have great students."
The 2018 Academic Senate DIT Award for faculty at UCSF for more than five years is Jeff Kohlwes, MD, MPH, professor of Clinical Medicine, Department of Medicine, School of Medicine. One nominator said Kohlwes is "one of the greatest educators they have met."
Humbled to receive the award, Kohlwes said teaching has taught him that, "being a role model to students is more important than teaching."
DIT nominations are submitted by students, residents, faculty, or fellows, whose letters of support provide individual stories of the nominees' exemplary efforts. Letters demonstrate teaching above and beyond the norm and an investment in future generations of health science practitioners, researchers, and educators. Nomination packets received reveal there is no one size fits all way to be an accomplished educator; rather each educator brings individualized strengths that contribute to the mission of UCSF. But all nominees revealed a belief in students' abilities, long before the students believed in them themselves, and deep support for the fulfilling of student potential.
Award recipients are chosen by a selection committee comprised of four faculty members and four student representatives from all schools. It is chaired by a current member of CAP. A list of previous DIT awardees are available here.
Distinction in Mentoring Recipients
The Academic Senate, for this award, defines mentoring as faculty-to-faculty or faculty-to-fellows interactions. The role of a mentor is unique from that of a coach, manager, or sponsor. Mentors help mentees gain independence, discover their abilities, and pursue their personal career goals. A mentor's role is twofold, in both listening and evaluating where a mentee envisions their own career going, and in turn providing direction and suggestions for their mentee's career trajectory.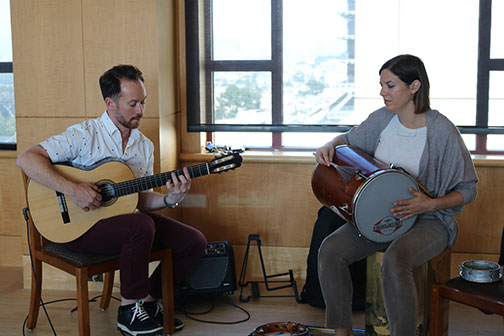 The recipient of the 2018 Academic Senate DIM Award for faculty at the Associate rank is Christina Mangurian, MD, MAS, associate professor of Psychiatry, vice chair for Diversity and Health Equity, Department of Psychiatry, School of Medicine. Her nominators described her as having a gift of connecting with people, and for pushing them to find their value. Mangurian credited her mentoring abilities to previous mentors she herself had.
"My greatest mentor is my mother," Mangurian said during her acceptance speech. "She also worked in academia as a former Assistant Dean in the College of Science and Mathematics and a Director of Faculty Development for a public university in Maryland."
The recipient of the 2018 Academic Senate DIM Award for faculty at the rank of full Professor is Kenneth E. Covinsky, MD, MPH, professor in residence, Division of Geriatrics, Department of Medicine, School of Medicine. One of Covinsky's nominators said they pursued a career in geriatrics, because of him.
"It is an honor to win this award, because I am surrounded by great colleagues in the Division of Geriatrics who are passionate about changing the world and my work would not be possible without them," Covinsky said.
DIM recipients are nominated by faculty and fellows. Recipients are chosen by an award selection committee comprised of eight professors, who are appointed by associate deans from every School, and which is chaired by a current member of CAP. These committee members rotate annually to allow for a new and fair evaluation of nominees.
"The award ceremony was a wonderful way to celebrate the sacred art of mentoring and teaching at UCSF," said Jeff Critchfield, MD, Chair, CAP. "It is profound to see what all these wonderful faculty members are doing at this University."
The list of previous DIM awardees is available here.
Created by UC Board of Regents Standing Order 105, the UC San Francisco (UCSF) Academic Senate is empowered to exercise direct control over such academic matters as admissions for degrees and curricula, which are of central importance to the University. The UCSF Division of Academic Senate provides an independent forum to discuss faculty-related campus wide academic concerns. In other areas, the Senate exercises an active advisory role. The Academic Senate works within the larger body of UCSF, a leading university dedicated to promoting health worldwide through advanced biomedical research, graduate-level education in the life sciences and health professions, and excellence in patient care.