Post-Event Summary 2018 Faculty Research Lecture in Basic Science: Robert M. Stroud
April 30, 2018
Robert M. Stroud, PhD, professor, Biochemistry and Biophysics, was selected by his peers on the Academic Senate's Committee on Research (COR) as the 61st annual Faculty Research Lecture (FRL) in Basic Science. The event took place on Thursday, March 8, 2018 in Byers Auditorium on the Mission Bay campus. The event was live simulcast and is available for viewing for one year.
The FRL series began in 1957 with a basic science award and in the following years grew to include clinical and translational science awards. Awards are given to three separate, distinguished faculty members each year. After faculty nominate colleagues, the Senate's COR reviews and votes on an awardee for each category.
Dr. Stroud, who also has a dual appointment in the Department of Pharmaceutical Chemistry, titled his lecture: "Wiggle Wiggle Not a Trickle; Structure Specificity and Integrity at Biological Membranes." His presentation highlighted recent groundbreaking insights into the mechanisms of voltage sensors that control ion channels, his career history, and ongoing research collaborations.
"I think this is a tremendous honor to be chosen as an FRL recipient," Stroud said. "I can't imagine a higher honor than to be voted by my colleagues, who are people I respect and who know me well."
Stroud is a world leader in structural biology. He researches the function of enzymes and membrane proteins, with aims of discovering fundamental mechanisms that can lead to new therapies for cancers and infectious diseases. Within his laboratory, he collaborates with sixteen other UCSF faculty members on research related to: cell health, key enzymes in cancer biology, transmembrane transporters, tuberculosis, unfolded protein response, and water channels.
Stroud has produced more than 340 peer-reviewed publications and determined over 300 macromolecular structure determinations, which are methods that rely on X-ray crystallography and electron cryomicroscopy to provide three-dimensional coordinates of macromolecules. His focus on membrane biology led to 40 membrane protein structures to date.
"When I reflect on my career development, I am fascinated that we are at the point where we understand biological molecule structures in enough detail to design therapeutic avenues for curing disease," Stroud said. "It's exciting for me to know that we can impact lives with a seamless connection between biology and the basic fundamentals of chemistry and physics."
Stroud said advancements in science and technology have dramatically enhanced the ability to answer fundamental questions of biology. He said it is an exciting time for students in research and is a key impetus for attracting first rate students to UCSF.
"The students that attend UCSF are truly remarkable, and they hold the key to the future of scientific research," Stroud said. "I enjoy collaborating and developing new concepts with students who come through my laboratory."
Stroud attends what he regards as one of the most unique events at UCSF, the Mission Bay Friday Faculty Lunch Talk. This event hosts 85 UCSF faculty scientists who meet weekly while one of them presents on their laboratory's recent research findings. Through these meetings faculty become aware of what each other are thinking about and novel concepts being generated.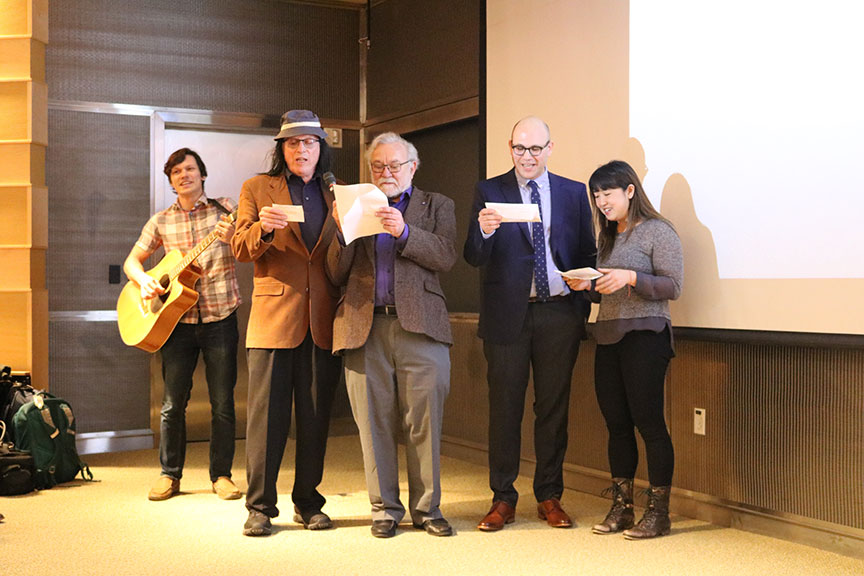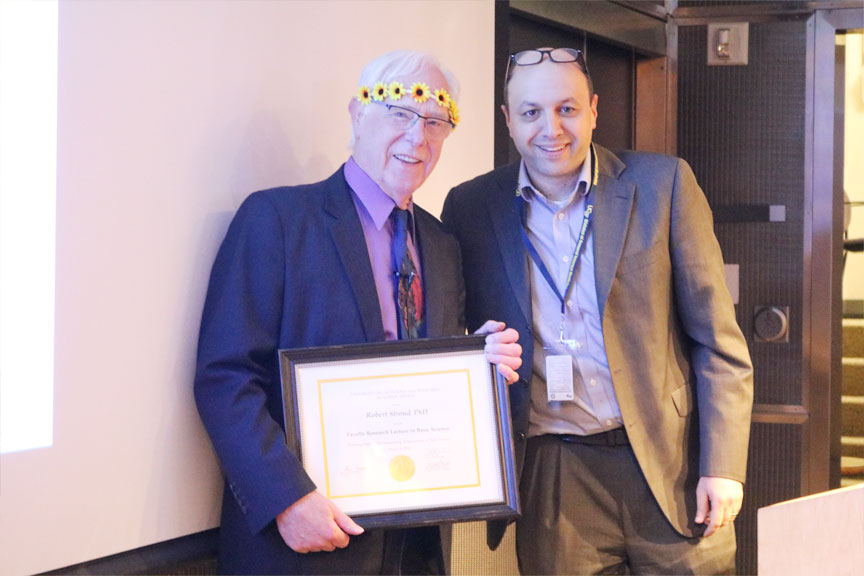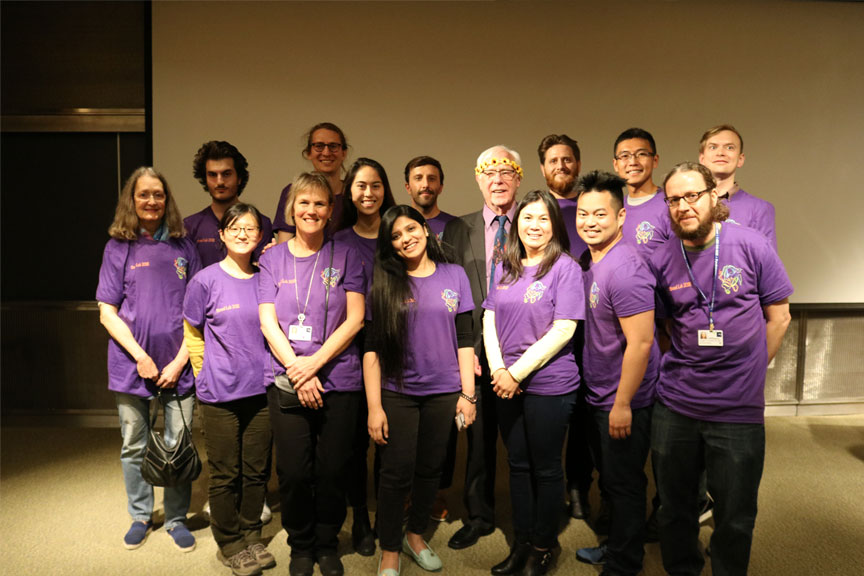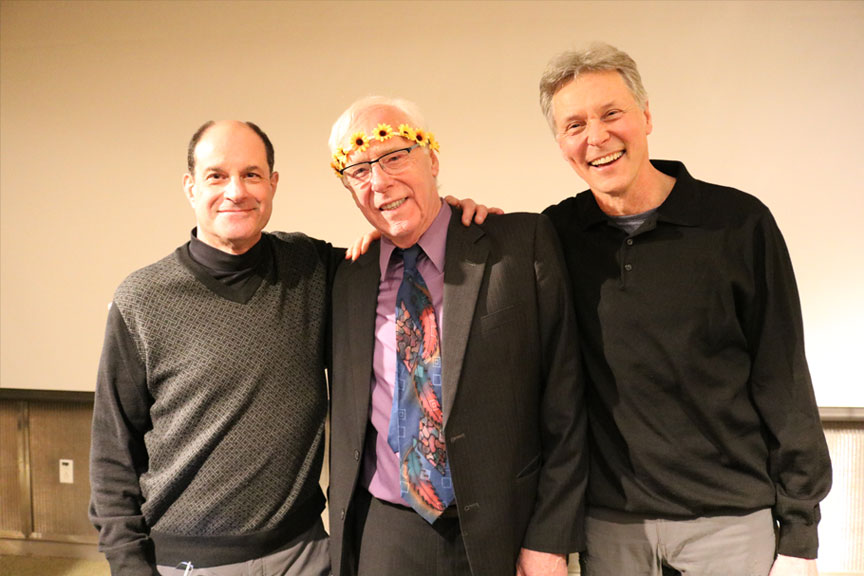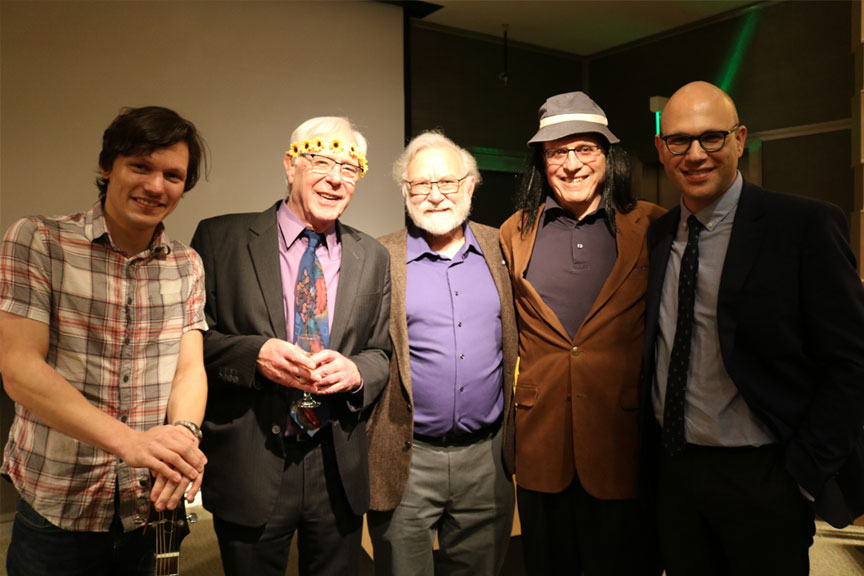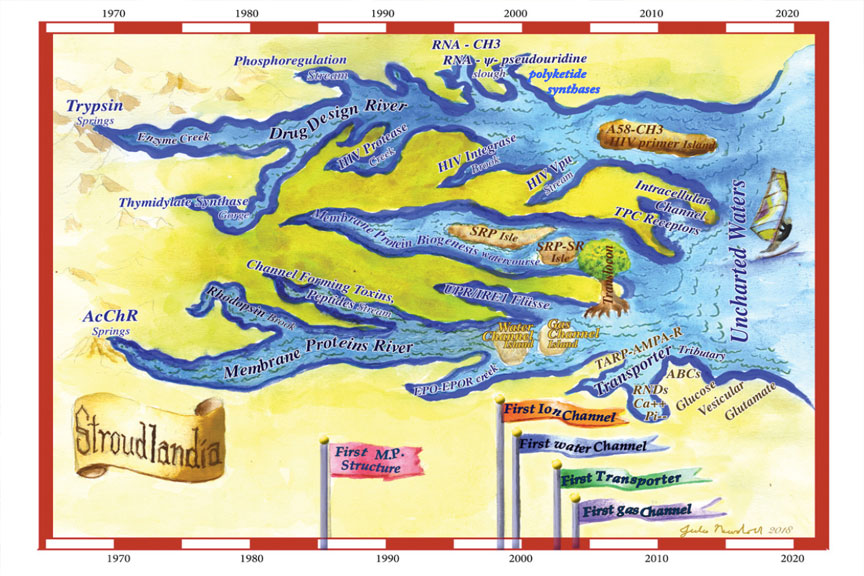 "These meetings provide time for us to talk and synthesize new insights," Stroud said. "There has been a shift from earlier times, in that now scientists from many different departments with potentially different biological focus now overlap in the genetic, cellular, and structural developments we all use."
Stroud's journey to becoming a scientist began during his childhood. He was born and raised in Stockport, England, south of Manchester. His father, Kenneth Stroud, had dreamt of being a scientist or engineer, but his goals were interrupted by the two world wars. Stroud's father shared his love of science, inspiring his son.
"He gave me a garden shed to use as my first science laboratory," Stroud said. "In that shed, I began designing electronics, pH meters, radio transmitters and receivers, tape recorders, and some chemistry with explosives."
Stroud attended the University of Cambridge in England on a scholarship, where he received his undergraduate degree in natural sciences (physics) in 1964 and his MA in natural sciences in 1968. During his time there, he studied the methods of determining the atomic and molecular structures of biological molecules and proteins in the Cavendish Laboratory. Under the Sir William Lawrence Bragg's direction, this laboratory is known for its research accomplishments by scientists that included Francis Crick, James Watson, Max Perutz, John Kendrew, and later many others.
Stroud obtained his PhD in Crystallographic Studies of Biologically Significant Compounds in 1968 from the University of London, also obtaining an MS in 1965. Then, from 1968-1971, he became a postdoctoral fellow studying the atomic structure of proteins at the California Institute of Technology in Pasadena.
At Caltech, he determined the atomic structure of the digestive enzyme, trypsin. Trypsin enables protein digestion in the small intestine. Many enzymes use the same chemistry as trypsin, known as a serine protease, to regulate cell biology processes. Such enzymes govern the rapid events that lead to blood clotting, activation of immune responses, tissue remodeling, and metastasis of cancer cells. Stroud's research discovered new principles that are designed to inhibit just one or other of these proteases.
Following his fellowship, he was appointed assistant professor and later associate professor of chemistry, with his own laboratory at Caltech until 1976, when he was recruited by William (Bill) J. Rutter to join UCSF.
"Bill Rutter took a chance by providing resources for my laboratory to start studying molecular structure at a time when there was no previous history of structural biology at UCSF," Stroud said. "Rutter charged the Department of Biochemistry and Biophysics with a standard of excellence and an excitement over science that has allowed us to grow into a highly innovative, collaborative, and entrepreneurial group."
Stroud is a founding member of the Macromolecular Structure Group (MSG) at UCSF, which brings together about 15 laboratories that share a focus on molecular structure and biology in the School of Medicine's Department of Biochemistry and Biophysics.
Within UCSF, he is also a principal investigator of the HIV Accessory and Regulatory Complexes (HARC) Center, which is a collaborative research effort examining proteins and the ribonucleic acid (RNA) that encode the HIV virus, with the ultimate goal of discovering a cure for HIV based on knowledge of atomic structures of the cellular interactions of the virus. He is also a part of the UCSF Biophysics graduate program, the UCSF program in Chemistry and Chemical Biology, and the UCSF Tetrad program.
While at UCSF, Stroud has enjoyed collaborations within the University that enjoined new scientific discoveries. Some key collaborations include:
Artists have also been important to Stroud throughout his career, and Stroud argues that art is a way to communicate scientific discovery broadly to others. He was inspired by the molecular art of Irving Geis who illustrated his article on trypsin in Scientific American, and Julie Newdoll, who illustrated several of his discoveries with paintings, and created a painting for the lecture summarizing Stroud's career, called "Stroudlandia."
Outside of academia, Stroud has many interests. He has a love for music, which like science, was engendered by his father. Stroud's father taught him how to play his first instrument, the banjo. Stroud plays guitar, and plays in a band. To celebrate Stroud's musical interests, the FRL event opened with a musical parody about his research created by Walter, and performed by: Walter; Rosenberg; Seemay Chou, PhD, assistant professor, Biochemistry and Biophysics; Vladislav Belyy, PhD, postdoctoral fellow in the Walter Lab; and David Eisenberg, DPhil, AB, UCLA professor, Biological Chemistry, to the melody of Bob Dylan's "Blowin' in the Wind."
Created by UC Board of Regents Standing Order 105, the UC San Francisco (UCSF) Academic Senate is empowered to exercise direct control over such academic matters as admissions for degrees and curricula, which are of central importance to the University. The UCSF Division of Academic Senate provides an independent forum to discuss faculty-related campus wide academic concerns. In other areas, the Senate exercises an active advisory role. The Academic Senate works within the larger body of UCSF, a leading university dedicated to promoting health worldwide through advanced biomedical research, graduate-level education in the life sciences and health professions, and excellence in patient care.
---