13th Annual Faculty Research Lecture in Clinical Science
Awarded to Kristine Yaffe, MD
The Academic Senate is pleased to announce the selection of Kristine Yaffe, MD, as recipient of the Thirteenth Annual Faculty Research Lectureship – Clinical Science for her ground-breaking patient-oriented research on the epidemiology of dementia. The lecture, titled "Optimizing Cognitive Aging" will take place on Monday, October 28, 2013 at 3:30 p.m. in Cole Hall, Parnassus Campus. The event will be simulcast and a reception will follow.
---
Lecture Title: Optimizing Cognitive Aging
Date/Location: October 28, 2013 from 3:30 – 5:00pm in Cole Hall, Parnassus Campus
Live Simulcast: http://lecture.ucsf.edu/ETS/Play/fe4deb6abb644dd68cddad7aa5b3e4dc1d
---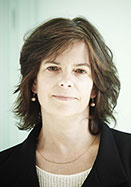 With a multidisciplinary background in psychiatry, neurology, and epidemiology, Dr. Yaffe is one of the foremost experts in the epidemiology of cognitive health. Her research focuses on the predictors and outcomes of cognitive decline and dementia, and her pioneering work with large, epidemiological cohorts has been essential in evolving our understanding of dementia prevention. 
As an internationally recognized leader in the field, Dr. Yaffe has identified several modifiable risk factors for dementia that lend to preventative strategies. In several pioneering studies, she demonstrated the critical link between chronic medical diseases including cardiovascular disease, diabetes, and sleep disorders and risk of accelerated cognitive aging. She also spearheaded some of the earliest investigations on the importance of both intellectual and physical activity for the prevention of cognitive decline. Dr. Yaffe's dynamic body of work also includes landmark studies on the role of neuropsychiatric disorders like depression, post-traumatic stress disorder, and more recently traumatic brain injury and risk of dementia. In both her research and clinical work, Dr. Yaffe synthesizes interdisciplinary approaches to improve the care of patients with cognitive disorders and other neuropsychiatric conditions.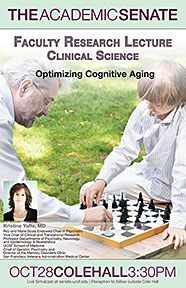 Dr. Yaffe has published over 300 peer-reviewed publications (with an H index of 81), and she is supported by grants from the NIA, NIDDK, NIMH, DOD, State of California Public Health Department, Alzheimer's Association and other foundations. In addition to serving as an advisor to several scientific and public health policy groups including the Alzheimer's Association's National Alzheimer's Project Act's (NAPA) Expert Advisory Committee, the Council of the German Center for Neurodegenerative Diseases Senate, and Chair of the Alzheimer's Association International Conference's Scientific Planning Committee, Dr. Yaffe is also an exceptional mentor dedicated to training the next generation of young investigators. In this role, she serves as the Director of the Mental Illness Research, Educational and Clinical Center (MIRECC) Fellowship, the Associate Director of the CTSI Mentor Development Program, and is the recipient of a K24 award from the NIA.
Dr. Yaffe was the first recipient of the Roy and Marie Scola Endowed Chair in Psychiatry. She is a Professor of Psychiatry with joint appointments in Neurology and Epidemiology and Biostatistics at University of California, San Francisco (UCSF), and she serves as the Vice Chair of Clinical and Translational Research.  She is also Chief of Geriatric Psychiatry and Director of the Memory Disorders Clinic and the SF VA Medical Center.
The Thirteenth Annual Faculty Research Lecture – Clinical Science will be held in Cole Hall, Parnassus Campus on Monday, October 28, 2013, at 3:30 p.m. and will be simulcast to other UCSF sites as availability permits. The link will be available on the Academic Senate website the week prior to the event – it will also be sent around to this allacad@ucsf.edu listserv. Refreshments will be provided. The lecture is open to the campus community and the general public.
Since 2001, this award has been bestowed on an individual member of the UCSF faculty with outstanding achievements in clinical research. Nominations are made by UCSF faculty, who consider the clinical research contributions of their colleagues and submit nominations for this prestigious award to the Academic Senate Committee on Research. Each year, the Committee on Research selects the recipient of this award. 
---