10th Annual Faculty Research Lecture in Clinical Science
Awarded to Stephen B. Hulley, MD, MPH
The Academic Senate is pleased to announce the selection of Stephen B. Hulley, MD, MPH, as recipient of the Tenth Annual Faculty Research Lectureship – Clinical Science for the impact and legacy of his top-caliber work as a clinical research investigator and teacher. The Lecture, entitled "40 Years in Clinical Research at UCSF: Lessons Learned," will take place on Tuesday, October 19, 2010 at 3:30pm in Cole Hall.
---
Lecture Title: 40 Years in Clinical Research at UCSF: Lessons Learned
Date/Location: October 19, 2010 from 3:30 – 5:00pm in Cole Hall
Powerpoint Slideshow: 40 Years in Clinical Research at UCSF: Lessons Learned
---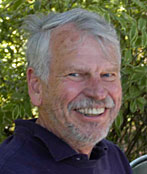 A cardiovascular epidemiologist, Dr Hulley led the landmark Heart and Estrogen/progestin Replacement Study (HERS), the first major trial to reveal an increase in coronary and thromboembolic events in women randomized to hormone treatment after menopause. This study was first published in JAMA in 1998 and was for several years the most cited paper in medicine. It was recently republished as a JAMA Classic.
Dr. Hulley also chaired the Steering Committee for the CARDIA cohort study of risk development in 5,115 young black and white women and men for a period of 23 years. He has held leadership roles in numerous other multicenter studies including the Multiple Risk Factor Intervention Trial (MRFIT) and the Medicine or surgery (Ms) trial of hysterectomy vs. medical management for abnormal uterine bleeding. He chaired the Epidemiology Subcommittee of two National Cholesterol Education Program policy documents (ATP I and II). His current research includes VEST/PREDICTS, a 60-center trial and follow-up study of wearable and implanted cardiac defibrillators.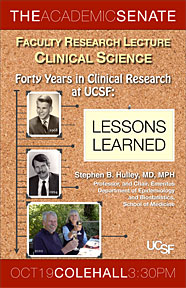 As a teacher, Dr. Hulley created a course in "Designing Clinical Research" at UCSF 25 years ago, which now trains 120 fellows and medical school junior faculty each summer. He is the lead author of the widely used textbook of the same name, with 100,000 copies sold.  Dr. Hulley created the NIH-funded UCSF Training in Clinical Research (TICR) program at UCSF, with its 2-year master's degree and 1-year certificate, and he leads the CTSI KL2 Career Development Program that provides training and infrastructure for 60 junior faculty with 4-5 year K awards.
Dr. Hulley received his MD from Harvard Medical School and his MPH from the School of Public Health at UC Berkeley. He has been on the faculty at UCSF for more than 40 years, chairing the Department of Epidemiology and Biostatistics from 1994 to 2006.
The Tenth Annual Faculty Research Lecture – Clinical Science will be held in Cole Hall on Tuesday, October 19, 2010 at 3:30pm, and will be broadcast to other UCSF sites as availability permits.  Refreshments will be provided.  The lecture is open to the campus community and the general public.
Since 2001, this award has been bestowed on an individual member of the UCSF faculty with outstanding achievements in clinical research. Nominations are made by UCSF faculty, who consider the clinical research contributions of their colleagues and submit nominations for this prestigious award to the Academic Senate Committee on Research. Each year, the Committee on Research selects the recipient of this award. A list of the past recipients of the award can be viewed at: http://senate.ucsf.edu/0-awards/DCRL-pastrecipients.html
---