47th Annual Faculty Research Lecture in Basic Science
Awarded to James E. Cleaver, PhD
The Academic Senate is pleased to announce the selection of James E. Cleaver, PhD, Professor Emeritus as the recipient of the 47th Annual Faculty Research Lecture.
Each year this distinction proudly acknowledges the outstanding scientific achievements made by a member of the Academic Senate. Academic Senate members are asked to consider the contributions of their colleagues so that the University community may recognize their achievements.
---
Date/Location: Monday, April 26, 2004 at 3:30 pm in Cole Hall
---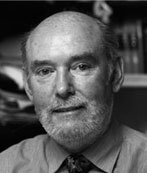 Dr. Cleaver joined the faculty of UCSF in 1966 and was granted Emeritus status in January 2004. His appointments as Professor are held in the Departments of Dermatology and of Pharmaceutical Chemistry and he is a member of the UCSF Cancer Center where he continues to serve as Program Leader in Cutaneous Oncology. He was elected to the National Academy of Sciences in 1999.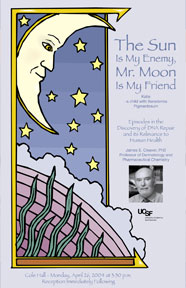 Dr. Cleaver is an internationally recognized expert on the molecular mechanisms of environmentally-induced and genetically-determined human cancers. He demonstrated as early as 1968 that cancer can be viewed as a genetic disease and his revolutionary work on xeroderma pigmentosum has led to breakthroughs in our understanding of the link between DNA repair efficiency and human disease. His pioneering work has resulted in more than 350 papers and reviews.
It is a great privilege for the Academic Senate to have the opportunity to honor his achievements with this prestigious award.
The 47th Faculty Research Lecture will take place during Founder's Week on Monday, April 26, 2004 at 3:30p.m.in Cole Hall. The lecture is open to the campus community and the general public.
---