Making Life Better for Others
Professor Kathleen Giacomini Receives 2019 Academic Senate Faculty Research Lecture Award in Translational Science and Discusses Mentoring, Activism, and Failure
June 7, 2019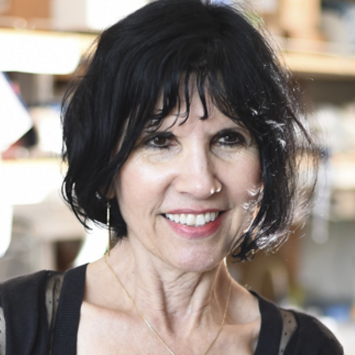 Kathleen Giacomini, PhD, Professor, Department of Bioengineering and Therapeutic Science has much to be proud of. She's a member of the National Academy of Medicine, the co-director of the UC San Francisco-Stanford Center of Excellence in Regulatory Sciences and Innovation (CERSI) and is a principal investigator of the NIH Pharmacogenomics Research Network Hub. She co-founded the International Transporter Consortium, and is the former chair of the Department of Bioengineering and Therapeutic Sciences. Most recently, she has been named the 2019 recipient of the Academic Senate Faculty Research Lecture (FRL) Award in Translational Science for her exceptional career achievement in translational science research.
While she is proud of these accomplishments, as well of the discoveries that have made her one of the premier researchers in her field, what Giacomini wants to talk about are her failures.
"Why don't I talk about all the things I've done wrong," she says laughing. "How many transporters did we look at before finding the right one? How many times did we come up with the wrong hypothesis? We tend to read about people who have been successful. Sometimes, it's hard not to be discouraged when faced with all these success stories. We sometimes question why we haven't reached this point ourselves. But research, by its risk-taking nature, is filled with failure," she says.
A Leading Researcher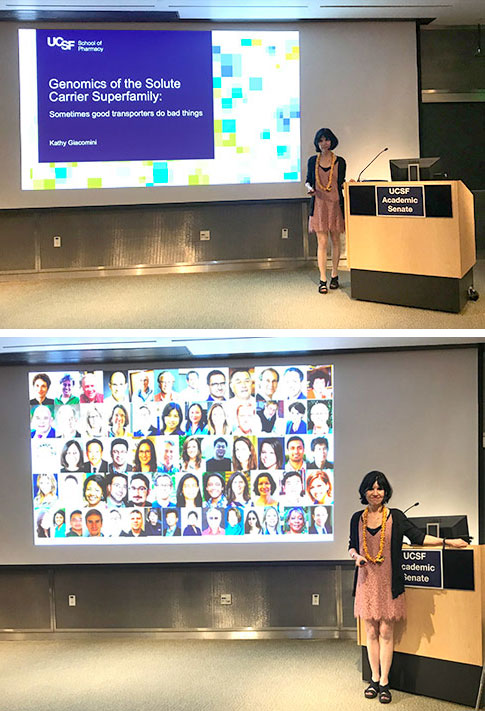 It is hard to believe Giacomini's career has been filled with much failure. In the introduction of her colleague at the May 9, Faculty Research Lecture at the Byers Auditorium, Tejal Desai, PhD, Professor and Chair, Bioengineering and Therapeutic Sciences commented: "I would argue that Kathy is one of the most influential and creative scientific leaders in the field of pharmaceutical sciences.  She's one of those rock stars who has truly made an impact in so many different fields…It's really her work that defined and ushered in the field of pharmacogenomics…and made it something we at UCSF can be really proud of  ..."
Giacomini's research focuses on expanding our understanding of membrane transporters and explores how genetics determines a patient's response to a particular drug. She hopes her research changes the one-size-fits-all approach to pharmaceuticals. "I feel we're in the dark ages of therapeutics. We prescribe a drug and hope for the best without much consideration of the particular needs of the individual," she says.
Giacomini was nominated by fellow UCSF faculty and was selected by the Academic Senate's Council on Research (COR). She is one of three faculty to receive the FRL awards this year. Donna Ferriero, MD, MS, Professor of Pediatrics was recognized in the clinical science category in February, and Professor Carol Gross, PhD, Cell and Tissue Biology, was recognized in the basic science category in March. This was the first time all recipients were women since all three categories of the award were introduced in 2011. (The basic science award was originally created in 1958. The clinical science award was created in 2002, and in 2011, and the translational category was created to honor bench-to-bedside research.)
The Lives of Others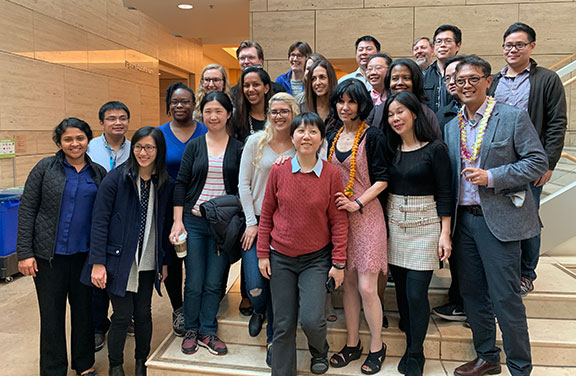 Much of Giacomini's career has been shaped by her will to leave a positive impact on the lives of others. Even her initial decision to pursue a career in academia was influenced by this drive. In her May 9 lecture, Giacomini quoted her mentor Gerhard Levy, PharmD, from the University of Buffalo: "Your research has a citation half-life of two years. Your students live a lifetime and teach their students."
Reflecting on her career, Giacomini believes it is the students that have filled her with the most pride. "When I was a graduate student, Gerhard Levy really underscored the fact that there were almost no women faculty and very few students who were women. He stressed how much female role models were needed and how I could mentor and advise future students. It's mind boggling to see how well my students have done and exciting to think about how I played a small role in launching their careers," she says.
When Giacomini, whose mother is from the Philippines, first arrived as a faculty member at UCSF in 1982, she was "highly motivated" to serve on Academic Senate committees to make a difference in the lives of women and minorities. "I served because I felt the need to be an activist and ended up meeting people, including my best friend, who are still part of my network of friends," she says.
Something New
In the coming year, Giacomini will continue her work with CERSI and the Pharmacogenomics Research Network Hub. She will continue to be involved with her start-up that seeks to develop new drugs that target the transporters she studies. She is excited by the prospect of making new fundamental discoveries and plans to apply to three additional grants this year. "What's great about research," she says, "is that there's always something new."
To view Giacomini's Faculty Research Lecture, please click here.
by Jill Kato
---