9th Annual Faculty Research Lecture in Translational Science
Awarded to Kathy Giacomini, PhD
The Academic Senate is pleased to announce the selection of Kathy Giacomini, PhD, as recipient of the 9th Annual Faculty Research Lectureship – Translational Science.
---
Lecture Title: Genomics of the Solute Carrier Superfamily: Good transporters sometimes do bad things
Date/Location: Thursday, May 9, 2019 at 3:30 to 5:00 pm in Byers Auditorium, Mission Bay Campus
Live Simulcast: Link is available at the Academic Senate website on the day of the event.
UCSF Events Calendar: RSVP on the UCSF Events Calendar website.
---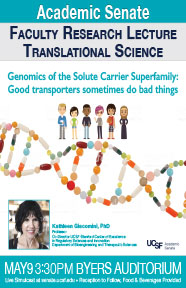 ---