3rd Annual Distinguished Clinical Research Lecture
Awarded to Melvin Scheinman, MD
The Academic Senate is pleased to announce the selection of Melvin Scheinman, MD as the recipient of the 3rd Annual Distinguished Clinical Research Lecture Award.
Each year this distinction proudly acknowledges the outstanding clinical research achievements made by a UCSF faculty member. Faculty are asked to consider the contributions of their colleagues so that the University community may recognize their achievements.
---
Date/Location: Tuesday, October 28, 2003 at 3:30 pm in Cole Hall
---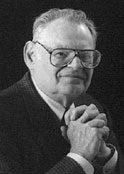 Dr. Scheinman has been a member of the UCSF faculty since 1967 after completing his cardiology fellowship here. He currently holds an appointment as a Professor of Medicine and is the Walter H. Shorenstein Chair in Cardiology.
Dr. Scheinman is recognized nationally and internationally for his pre-eminence in the field of electrophysiology and cardiology. He is credited with the discovery of catheter ablation and his research in this arena has led to remarkable advances in the treatment of arrhythmias, complemented by extensive research efforts directed towards a better understanding of tachycardia mechanisms.
Dr. Scheinman is respected by faculty and students alike – both as a remarkable researcher and clinician and as an outstanding teacher. He was recently awarded the 2002-2003 Academic Senate Distinction in Teaching Award. It is a great privilege for the Academic Senate to have the opportunity to further honor his achievements with this prestigious award.
The 3rd Distinguished Clinical Research Lecture will take place on Tuesday, October 28, 2003 at 3:30 p.m. in Cole Hall. The lecture is open to the campus community and the general public.
---