School of Dentistry Faculty Council
Full Faculty Meeting
May 21, 2020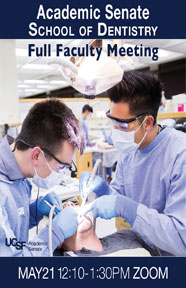 Please join us for the Spring All-Faculty Meeting of the School of Dentistry Faculty Council on May 21 from 12:10-1:30. Due to COVID-19 continuing disruptions, we'll be holding this meeting by a Zoom webinar.
This is our opportunity as faculty to hear about the business of the council that represents you, our faculty council committees' important work, and to share you perspectives on important issues the council should be addressing in the coming year.
Click here for the ZOOM meeting link.
Agenda (12:10pm-1:30pm)
Chair's Report – Beth Mertz, Chair, SOD Faculty Council (10 min)
Dean's Report – Mike Reddy, Dean (20 min)
Student Report & Leadership Transition Steven Gigli, Student Representative – (15 min)
Committee Reports – Beth Mertz (25 min, 5 min each)

Academic Planning and Budget (Arun Sharma, Chair, APB)
Admissions (Nejlah Abed, Chair, Admissions)
Education Policy Committee (Joel White, Chair, EPC)
Student Status (Jen Perkins, Chair, Student Status)
Scholarship (Justin Shek, Chair, Scholarship)

Open Q&A (10 min)
Adjourn