UC Implements New Procedures for Sexual Violence and Sexual Harassment
November 13, 2017
On September 1, 2017, University of California implemented a new systemwide procedure for the investigation, disposition, and adjudication of sexual violence and sexual harassment cases under the UC Sexual Violence and Sexual Harassment Policy ("SVSH Policy") as it relates to faculty and non-represented academic appointees. Each UC campus created local procedures to define the process for the investigation and adjudication of SVSH claims. As a result, UC San Francisco has its own local procedure.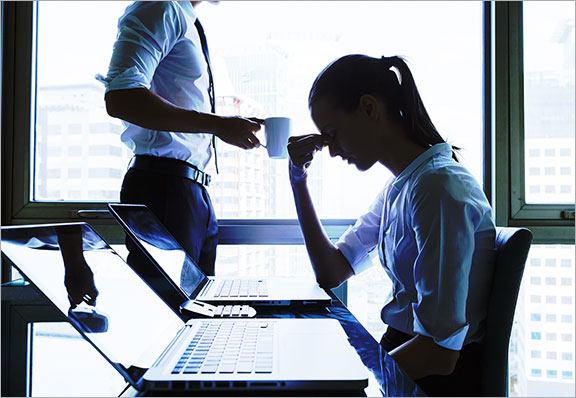 This change was the result of President Napolitano's task force recommendations relating to student, staff, and faculty reports concerning sexual harassment and sexual violence. In addition to cases alleging violations of the SVSH Policy, the new procedure also applies in cases where a faculty or non-faculty academic appointee is alleged to have violated the UC Nondiscrimination and Affirmative Action Policy Regarding Academic and Staff Employment ("Nondiscrimination Policy") in conjunction with the SVSH Policy. Faculty in and outside of the Academic Senate will be affected by these changes. This article summarizes the new procedures.
The SVSH Policy prohibits sexual harassment, sexual violence (sexual assault, dating/domestic violence, and stalking), and other behavior of a sexual nature. Pursuant to the policy, the University must respond promptly to reported violations. All faculty, managers, supervisors, and principal investigators must report all allegations of potential sexual harassment, sexual violence, other misconduct of a sexual nature, and discrimination or harassment described in the Nondiscrimination Policy to the Office for the Prevention of Harassment and Discrimination ("OPHD").
The new procedure is triggered when OPHD receives a report of a potential policy violation. The procedure comprises three phases: investigation, disposition, and adjudication. An overview of each phase is listed below.
Investigation: OPHD receives and reviews allegations of potential violations of the SVSH Policy and Nondiscrimination Policy. After reviewing a complaint, OPHD determines whether to resolve the matter through alternative resolution or formal investigation.  When OPHD determines that a formal investigation is necessary, OPHD sends notices of formal investigation to the parties, describing the allegations. OPHD uses a "preponderance of the evidence" standard to determine whether the SVSH Policy has been violated. In faculty cases, OPHD also determines whether the Faculty Code of Conduct (APM-015) has been violated. OPHD typically completes investigations within 60 business days. The Chancellor and the Chancellor's Designee (the Vice Provost, Academic Affairs or, alternatively, the Executive Vice Chancellor and Provost) are notified of the outcome of the investigation and receive a copy of the investigation report and its attachments.
Disposition: During this phase, the parties have an opportunity to meet with the Chancellor's Designee and comment in writing on the investigation report. If the investigation results in a finding that a faculty or non-faculty academic respondent has violated a policy, the Chancellor's Designee will convene the Peer Review Committee (PRC). The PRC will review the investigation report and any comments or responses provided by the parties, and provide the Chancellor/Chancellor's Designee with a discipline recommendation. The Chancellor/Chancellor's Designee will decide if the discipline is appropriate and propose it in writing to the respondent. This phase typically is completed within 40 business days.
Adjudication: The final phase, adjudication, only occurs if the respondent does not accept the Chancellor's/Chancellor's Designee's proposed discipline.  Options under this phase are dependent on the respondent's appointment status. Academic Senate faculty may contest the Chancellor's proposed discipline in front of the Senate Privilege and Tenure Committee, while non-Senate faculty and non-faculty academic appointments may pursue a grievance under APM 140.
UCSF Resources
UCSF has a number of resources available to complainants and respondents.
Confidential Resources:
The CARE Advocate, Denise Caramagno, provides complainants with free support, including assessing their needs, providing emotional support, connecting them to resources, and educating them on their rights. The CARE Advocate services extend to faculty, students, staff, post-doctoral fellows, and researchers of all genders who have experienced conduct prohibited by the SVSH Policy, including sexual assault, sexual harassment, stalking, or dating/intimate partner violence, irrespective of whether the conduct occurred on or off campus. The CARE Advocate can be reached at (415) 502-8802 or care@ucsf.edu. The CARE Advocate website includes additional information and resources relevant to survivors.
The Faculty and Staff Assistance Program (FSAP) provides free, confidential counseling services to faculty, staff, clinical fellows, postdoctoral students, and residents.  FSAP can be reached at (415) 476-8279 or fsap@ucsf.edu.
The Office of the Ombuds offers free individual services, group mediation, and group trainings.  They help UCSF faculty, students, staff, post-doctoral fellows, and researchers by listening and reviewing matters, listing options, making inquiries, making referrals, and offering solutions when appropriate.  All conversations that take place at the Office of the Ombuds are off the record.  The Ombuds can be reached at (415) 502-9600.
Non-Confidential Resources:
UCSF's Title IX Coordinator and OPHD is responsible for receiving and responding to reports of violations under the SVSH Policy and the Nondiscrimination Policy.  For more information, contact OPHD at (415) 502-3400 or OPHD@ucsf.edu.
UCSF Police are also available from on-campus phones at 9-911 and off-campus phones at (415) 476-6911 for emergencies, and (415) 476-1414 for non-emergencies.
Questions about the policy and procedure should be addressed to Nyoki Sacramento, JD, UCSF Title IX Coordinator and Director of OPHD at ophd@ucsf.edu or (415) 502-3400.  Additional information for claimants and respondents is available on the Sexual Harassment and Violence Prevention and Response website's "Get Help" and "Frequently Asked Questions" sections.
Created by UC Board of Regents Standing Order 105, the UC San Francisco (UCSF) Academic Senate is empowered to exercise direct control over such academic matters as admissions for degrees and curricula, which are of central importance to the University. The UCSF Division of Academic Senate provides an independent forum to discuss faculty-related campus wide academic concerns. In other areas, the Senate exercises an active advisory role. The Academic Senate works within the larger body of UCSF, a leading university dedicated to promoting health worldwide through advanced biomedical research, graduate-level education in the life sciences and health professions, and excellence in patient care.