2017 Faculty Research Lecture in Translational Science: Sarah Nelson
Sarah Nelson, PhD, was selected by her colleagues as the seventh annual Faculty Research Lectureship (FRL) in Translational Science.
Dr. Nelson is a Professor of Radiology and Biomedical Imaging, UC San Francisco School of Medicine and the Director of the Surbeck Laboratory for Advanced Imaging and the Director of the Helen Diller Family Comprehensive Cancer Center Precision Imaging of Cancer and Therapy (PICT) Program. She also holds a secondary appointment in the Department of Bioengineering and Therapeutic Sciences and the Department of Neurology, which are both respectively in the School of Pharmacy and the School of Medicine.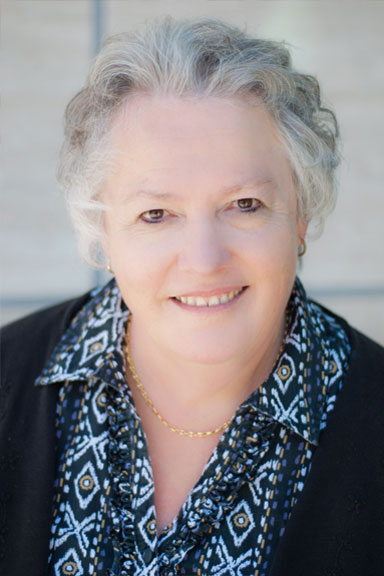 Nelson presented on her 27 years at UCSF, focusing on her collaborative research, developing multimodality imaging methods that help evaluate, treat, and manage patients with brain tumors. The lecture was entitled "Precision Imaging of Brain Tumors."
The event took place on Wednesday, May 10 in Byers Auditorium on the Mission Bay campus, with a reception afterwards. The event was live simulcast and is available for viewing.
The FRL series began in 1957 with a basic science award and in following years grew to include clinical and translational science awards. Translational science focuses on faculty who translate scientific research into clinical practice. The FRL awards are given to three separate, distinguished faculty members each year. After UCSF faculty makes the nominations, the Senate's Committee on Research (COR) makes the final selections.
"It makes me feel highly honored to be nominated for this award by my colleagues," Nelson said. "Our accomplishments have been a team effort. Knowing that my colleagues respect what I have done enough to want me to share with the scientific community is humbling."
Nelson has expertise in bioengineering and mathematics. She has been an NIH principal and co-principal investigator with research focusing on magnetic resonance imaging (MRI) data used for characterizing disease and assessing response to therapy. As the Director of the Surbeck Laboratory, she oversees the use of three Tesla (3T) and seven Tesla (7T) magnetic resonance (MR) scanners that are dedicated to research applications. Tesla refers to the magnetic strength of an MRI system. The 3T MR scanner is similar to those used for clinical purposes, whereas the 7T MR scanner provides higher sensitivity and delivers more precise results. As Director of PICT, Nelson and her colleagues use novel technologies to obtain data that will help to understand the processes associated with malignant transformation and the development of drug resistance.
Other areas that Nelson has worked in include: multiple sclerosis, prostate cancer, and the development of spectroscopic imaging methods. Outside of research, she teaches, mentors students and postdoctoral fellows, and participates on committees. These committees include work involving precision medicine with UCSF's Institute for Computational Health Sciences (ICHS) and the Brain Tumor Center (BTC).
"No specific person influenced my choice to become a scientist," Nelson said. "My career path has been a random walk, because I realized I was strong in math and looked at things from a logical standpoint. After graduating and looking at several different jobs, I quickly found that I wanted to be a researcher."
Nelson grew up in the U.K., and attended the University of Manchester. After receiving her Bachelor of Science in Mathematics from there, she got married and worked in the industry for a few years. Then, she moved to Germany for her husband's postdoctoral fellowship and decided to complete her PhD in Biomathematics from the University of Heidelberg's Department of Mathematics.
After Germany, Nelson and her husband came to the U.S. They lived in Pasadena, California for three years, during which her two daughters were born. Then they moved to Philadelphia, Pennsylvania where she completed her Postdoctoral Fellowship in Biostatistics from the Fox Chase Institute for Cancer Research.
"Fox Chase was the first place I had the chance to work on imaging, and further discover my interest in applying mathematics to biomedical problems," Nelson said.
Nelson and her family moved to the Bay Area after her husband was offered a position at Stanford University and she was offered one at UCSF.
When Nelson first came to UCSF in 1990, she worked in a small research laboratory that was housed under the Parnassus parking structure. In that laboratory, she shared space with John Kurhanewicz, PhD, Professor of Radiology, School of Medicine; Sharmila Majumdar, PhD, Professor of Radiology, School of Medicine; and Daniel Vigneron, PhD, Professor of Radiology, School of Medicine.
"I remember to get to the lab's front door, we'd take the loading dock," Nelson said. "In that first laboratory, we formed a very close, collaborative group. Together we set up the lab and shared everything."
Nelson and her colleagues made every effort to utilize their limited research space, but after a while it became clear an expansion was needed. In 2005 they were fortunate in moving to the Surbeck Laboratory in the California Institute for Quantitative Biosciences (QB3) building on the Mission Bay campus.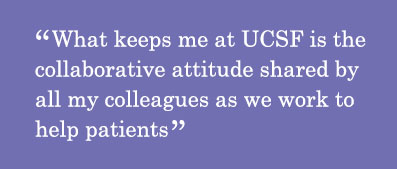 "At UCSF I have been fortunate in having the opportunity to collaborate with clinicians such as Susan Chang, Mitchel Berger, and their colleagues in the Brain Tumor Center, who have been critical in providing opportunities for me to do translational research," Nelson said.
Chang, MD, and Berger, MD, are both Professors of Neurological Surgery, in the School of Medicine.
"What keeps me at UCSF is the collaborative attitude shared by all my colleagues as we work to help patients," Nelson said. "I am looking forward to expressing my gratitude to my colleagues through my FRL presentation by showing the effort we put into our translational research."
Outside of UCSF, Nelson likes to spend time with her family. She enjoys traveling to Oregon to visit her two daughters and granddaughter.
Created by UC Board of Regents Standing Order 105, the UC San Francisco (UCSF) Academic Senate is empowered to exercise direct control over such academic matters as admissions for degrees and curricula, which are of central importance to the University. The UCSF Division of Academic Senate provides an independent forum to discuss faculty-related campus wide academic concerns. In other areas, the Senate exercises an active advisory role. The Academic Senate works within the larger body of UCSF, a leading university dedicated to promoting health worldwide through advanced biomedical research, graduate-level education in the life sciences and health professions, and excellence in patient care.
---