17th Annual Faculty Research Lecture in Clinical Science
Awarded to Ruth Greenblatt, MD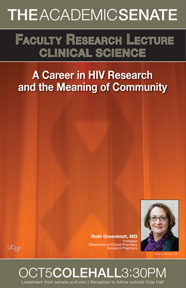 The Academic Senate is pleased to announce the selection of Ruth Greenblatt, MD, as recipient of the Seventeenth Annual Faculty Research Lectureship – Clinical Science for her contributions to clinical discoveries in the human immunodeficiency virus (HIV). The lecture, titled "A Career in HIV Research and the Meaning of Community," will take place on Thursday, October 5, 2017 at 3:30 p.m. in Cole Hall, Parnassus Campus. The event will be simulcast and a reception will follow
---
Lecture Title: A Career in HIV Research and the Meaning of Community
Date/Location: Thursday, October 5, 2017 at 3:30 p.m. in Cole Hall,Parnassus Campus
Live Video Streaming: https://lecture.ucsf.edu/ets/Play/909c7d96c33b49059f9906f0a057f8ea1d
Post-Event Summary: 2017 Faculty Research Lecture in Clinical Science
---
One of the nation's expert in HIV, Dr. Greenblatt focuses on mucosal immunity among women with HIV, the effects of sex steroids, and anti-retroviral pharmacology. Her research has helped to define distinct phenotypes of HIV disease in women and led to improving clinical trials methods to provide better information on the outcome of experimental treatments on women and racial minorities.
As Principal Investigator for the Connie Wofsy Women's HIV Study, a large on-going national prospective study of women at risk of and living with HIV, Dr. Greenblatt has been a relentless advocate to advance the understanding of HIV in women, and in that role has driven the scientific agenda of the national collaborative. This is the largest and longest cohort in the world to document the natural history of HIV disease in women, which has found significant sex differences in HIV pathogenesis, manifestations, and treatment outcomes.
Dr. Greenblatt has published over 200 peer-reviewed publications. Of particular note, one study showed that many women with HIV were not represented in most HIV trials. The study also carefully compared the exclusions stated in publications to those in the actual trial protocols, finding that only about half of the exclusions were disclosed in publications. This documented another important limitation to the generalizability of HIV clinical trials—that it cannot be reliably assessed from information in publications.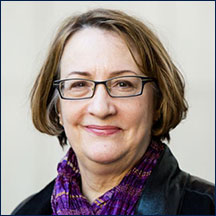 Dr. Greenblatt has served as Vice Chair and Chair of the San Francisco Division of the UC Academic Senate. In addition, Dr. Greenblatt served as a member of the UC HIV Research Program Scientific Council and the Chancellor's Advisory Committee on the Status of Women, and was founding chair of the Chancellor's Council on Climate. Dr. Greenblatt has received the Chancellor's Award for the Advancement of Women and the American Association of Medical Colleges Award for Women in Medicine Leadership.
Dr. Greenblatt is a Professor Emeritus in the Department of Clinical Pharmacy at the University of California, San Francisco. She received her MD from Case Western Reserve University School of Medicine in 1981.
The Seventeenth Annual Faculty Research Lecture – Clinical Science will be held in Cole Hall, Parnassus Campus on Thursday, October 5, 2017, at 3:30 p.m. and will be simulcast to other UCSF sites as availability permits. Refreshments will be provided. The lecture is open to the campus community and the general public.  
Since 2001, this award has been bestowed on an individual member of the UCSF faculty with outstanding achievements in clinical research. Nominations are made by UCSF faculty, who consider the clinical research contributions of their colleagues and submit nominations for this prestigious award to the Academic Senate Committee on Research. Each year, the Committee on Research selects the recipient of this award.
---